These decals are in 20mm (1/76) scale, but will definitely work with 1/72 armor.
The quality of the decals on the sheets looks very good, with very good register. Only rarely is there a very slight misalignment in the colors to be noticed.
Skytrex uses two types of technology. The first is the classical water-slide decal, the other one is new to me. These decals looks like a rub-on (dry) decal, printed on the backside of the carrier, but needs to be placed on the model with its backing sheet and then to be wetted. I'll have to experiment to see how this works
The following sets are of the "make-wet-after-placement" type. (As the decals are on the backside of the semi-opaque backing sheet the scans are a bit fuzzy.)
AD25: Allied stars
AD38: British Arm of Service Markings
AD39: British Division Markings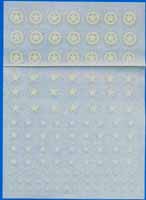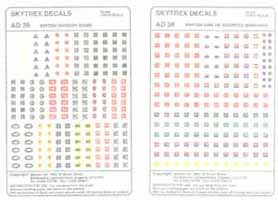 Set 25 didn't show up very well in my scan, as they are white stars on a white backing paper, but you get 21 stars in a (solid) ring, 21 large stars, 36 medium and 52 tiny stars.
Set 38 gives, as the title says, arms of service markings, including the somewhat rarer combinations, but their is no manual or explanation of their use. The picture - I believe- clearly shows what you get. You also get yellow disks, which I assume are for the vehicle weight class, but you will have to provide numbers for them yourself.
Set 39 gives 12 divisional marking for each of a number of British unitsi, like 1st,2nd,6th,7th (etc.) Armoured and 1st,3rd,4th (etc.) Infantry Division. (The pictures speak for themeselves, so I won't go into summing up all the markings on the set.)

What is interesting, however, is that these decals are meant to be used in a way that is novel to me. They are printed on the back side of the sheet. If I understand correctly, they are to be cut out, put on the vehicle and only then wetted. The decal should stay in place. I don't know if at that point you can still move it a little, as you can do with typical waterslide decals, but I'll let you know if I come round using them.
The following are of the typical waterslide type.
AD28: German Crosses
AD29: Soviet Stars
AD76: British 11th AD
AD80: Arm of Service Markings NW Europe 1944, Pt1
AD81: Arm of Service Markings NW Europe 1944, Pt2
Set 28 is a straightforwards set of 24 white outline and 131 black and white Balkenkreuze, of which 24 are of the narrow style.
Set 29 is even simpler and gives 56 Soviet red stars in a single size.
Set 76 gives an abundance (221 !) of 11th Armoured Division "bulls". Enough to last you a lifetime, but only in one size and all looking to the left. A bit more variation might have been welcome. Very nicely printed, though.
Sets 80 and 81 are complementary to set 38, with a slight overlap. Fortunately for me, this time you also get an explanation which color and number combination means what. So I learn that the tricolors are for R.E.M.E. and the black ones for ambulance etc.
Conclusion
These are very nicely printed and relatively inexpensive sets, which will go a long way in giving you a firm basis to mark up your vehicles. I am anxious to find out how the alternative-technology decals work out.