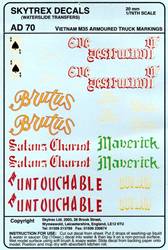 These 1/76th scale decals depict Vietnam M35 armored truck markings. Decals for 8 trucks are included, some in white which are hard to see.
Top left next to the Ace of Spades is "The Gamblers", underneath "Eve" is "The Boss" and a bit easier to see underneath "Maverick" is "Outlaw". There is one major flaw with this set. All of the markings with the exception of "The Gamblers" are for M54 5 ton armored gun trucks, not M35 trucks. To my knowledge, there is no M54 in any medium, plastic or resin. Another oversight is that these vehicles usually had more than just large names on their sides. For example, "Brutus" had "359th Trans Co." in dark orange on the rear armored box plate and large stripes on the rear mud flaps like on modern highway construction vehicles. The copyright date is 2003, so reference material should have been available to Skytrex to make a more accurate and complete set.
My reference, the out of print "Gun Trucks" by Timothy Kutta, a Squadron/Signal publication, provided the following information on the gun trucks that may provide useful to the reader for their own research:
Gamblers is from the 27th transportation Co.
Eve is from 523rd
Brutus is from 359th
Boss is from 8th group
Satans is from 8th group
Maverick is from 8th group
Untouchable is from 359th
Outlaw is from 359th
There is not enough space to provide further information on gun trucks, but suffice it to say these trucks were armored and served much the same purpose as their modern counterparts in Iraq and Afghanistan today, with 1st, 2nd and 3rd generation armor also being created.