This is another in the series of impressive M4 Sherman conversions from MR Models. Like the others, this set is intended to convert an ESCI (now Italeri) M4A1 Sherman kit, and requires several (but not many) parts from that plastic model.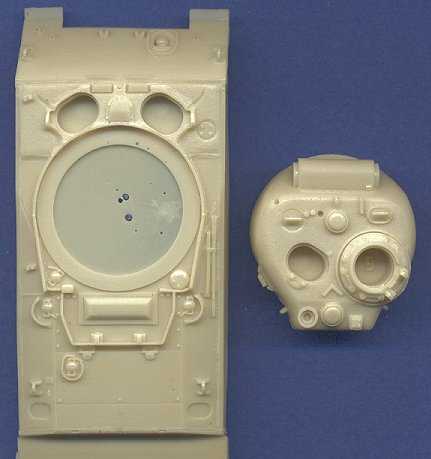 Most of the parts are provided in resin, although a few are also made from cast metal. Although I have had many problems in the past with poor resin casting (bubbles and air pockets), this set is very well done, with only a couple of easily-fixed pinholes.

The wheels are the stamped, six-spoke variety, and includes two spares. Some stowage supplies are even included.

The hatches, sprocket wheels, and some other smaller details are cast in white metal, and are very well done. The hatches are detailed on both surfaces, which allows the modeler to display them in the open position. The gun barrel is turned aluminum, and is perfect.
Compare this kit with the only other M4 105(W) conversion on the market from Commander Series. Although the turret on that other kit is pretty decent, the hull really cannot compare to this one from MR Models. This is a gorgeous kit, and I highly recommend all the MR Models kits.
Thank you very much to Smallscale.de for the providing the review item.