Sherman M4 (105)
Manufacturer: Commanders Series Models (Kit No. 3010)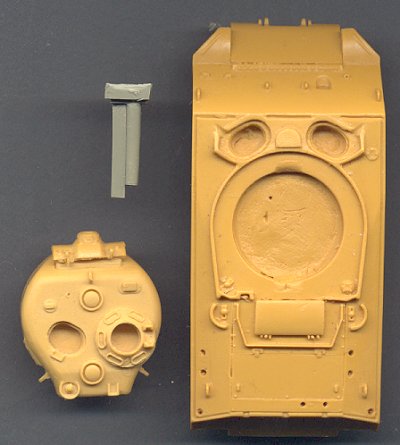 This is a conversion set that includes only the three parts seen above. The modeler is required to provide an ESCI (now Italeri) M4A1 to provide all the other parts. Unfortunately, this Commander Series set is no longer being made.
This kit is distinctly different than the Al.By 105 kit. The Al.By kit represents the 105mm version of the M4A3, and uses an improved copy of the ESCI M4A3 hull. This here kit from Commander Series represents the 105mm version of the late model M4. Commander Series made this happen by grafting the engine deck access plates from the ESCI M4A1 into the rear deck of the ESCI M4A3, thereby making a standard M4 hull (late version with the 47 degree glacis). They have also improved the turret by adding an additional ventilator, changing the commander's cupola to the late style with periscopes, and also changed the gun mantle. The turret is very well done, but this conversion kit doesn't include the commander's hatch. The gunner's hatch can be obtained from the ESCI kit which is needed to complete the conversion, but the commander's hatch will have to be scavenged from somewhere else. I also think the gun barrel is too short. I am investigating to see if different barrel lengths were used, but the one in this kit is several mm shorter than the barrel included with the Al.By kit.
All in all, this is a pretty decent conversion, and should build into an excellent model.
---