2019 IPMS USA Nationals Report
The venue for the 2019 edition of the IPMS USA National Convention was the Chattanooga Convention Center. Hosts of the show was the Chattanooga Scale Modelers with assistance from Atlanta Scale Modelers and Marietta Scale Modelers. As per usual, the convention spanned four days, this year running from Wednesday, August 7 'til Saturday, August 10.

The contest theme was somewhat on the oddball side - "Was it Over When the Germans Bombed Pearl Harbor?". This historically inaccurate theme was inspired by a line uttered by Bluto, a character played by John Belushi, from the 1978 cult classic, "Animal House". The convention logo prominently suggests another oddball John Belushi role, that of Captain Wild Bill Kelso in his shark-mouthed P-40E, from the Spielberg film "1941".

The contest room was awe inspiring by its sheer size. Not having anything other than my 'golf stride' to measure their dimensions, I paced out the contest room at 100 yards by 56 yards. The vendor room was even larger, but the sheer mass of humanity in it at all times made it difficult to perform the same measurement method, so my best guess makes it at approximately 140 yards wide by 100 yards. Most impressive indeed!


A few statistics:

3,112 - Contest entries
177 - Contest categories
1,675 - Display Only entries
4,787 - Total models
961 - Registered attendees (i.e. IPMS/USA or other national IPMS members)
139 - Attendees for Display Only
Builders from: USA, Canada, Japan, Spain, Venezuela, Australia, U.K., New Zealand, Mexico, Puerto Rico, and Argentina (These are the countries of which I know. Probably missed a few)

No report of the Nats can be complete without mention of super brailler Mark Deliduka, aka "the Duke". Mark and his collection of 750 braille armour models was definitely the talk of the show. He was provided with a number of dedicated tables by the convention committee to the front right of the contest area just as you came through the entry. Mark said he needed four and one half hours to unpack and place them, and just under three hours to repack for travel, the time reduction due to, in Mark's word, "to some help from a wonderful couple and Chris Ekstrom". Not surprising, the convention executive gave him permission to break down his display early. Mark also said that he needed a van for transport, and not owning one, he rented a van for the almost coast-to-coast to-and-back treks between California and Chattanooga. All told, with a few side trips, he logged 4,813 miles for the round trip. Now that's what I call dedication!

And if you're into statistics, Mark accounted for approximately 45% of the display entries, and 16% of all models on the tables. Even more impressive!

An overall view of Mark's impressive
750 kit collection!


Here's Mark's Dora gun, dominating all of the
other vehicles with its sheer size. It's an
incredible model and I have to commend Mark
on his perseverance in building it. I know
I'd not have had the patience to see this one
through to completion.


Note the flag at bottom centre. It denotes
Mark's 1st model, a Panzerjäger I.


A nice view of Mark's display, showing how
he divided his kits by nation, even providing
a flag with each, along with its name for those
who are flag identity challenged.
The Braille Gang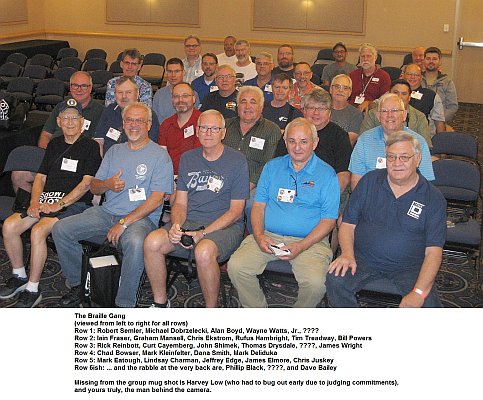 Contest Results - Dedicated Small Scale Armor categories plus others that had Small Scale Armour winners (taken from IPMS USA website).
218A. Armor; 1/72 Military Vehicles; Fully Tracked, through Korea - Allied: Soviet, WWI, French, and Stuart
1st - ISU-152 - Mark Kleinfelter, Elizabethtown, Pennsylvania
2nd - Mk.1 Male Tank, Gaza Strip - Tom Drysdale, London, Ontario, Canada
3rd - UE Chenillette - Chris Ekstrom, Columbia, Connecticut

218B. Armor; 1/72 Military Vehicles; Fully Tracked, through Korea - Allied: Other
1st - Sherman VC Firefly - Alan Boyd, Denton, Texas
2nd - Bishop Mk.1 - Roger Woods, Gastonia, North Carolina
3rd - Polish Vickers E Mk.B - Timothy Treadway, Winston-Salem, North Carolina

218C. Armor; 1/72 Military Vehicles; Fully Tracked, through Korea - Axis
1st - Tiger II - Mark Kleinfelter, Elizabethtown, Pennsylvania
2nd - PzKfw. IIJ - Allan Magnus, Regina, Saskatchewan, Canada
3rd - PzKfw. IIIM - Chris Juskey, Thornhill, Ontario, Canada

218D. Armor; 1/72 Military Vehicles; Fully Tracked, through Korea - Other
1st - IDF Hotchkiss H-39 - Timothy Treadway, Winston-Salem, North Carolina



219. Armor; 1/72 Military Vehicles; Fully Tracked, post Korea
1st - M109A6 Paladin - Jeffrey Edge, Woodhaven, Michigan
2nd - M113 ACAV - James Elmore, Lawrenceville, Georgia
3rd - Merkava Mk.III - Alan Boyd, Denton, Texas

220. Armor; 1/72 Military Vehicles; Armored Cars and Armored Halftracks
1st - ASLAV-25 - Mark Kleinfelter, Elizabethtown, Pennsylvania
2nd - SdKfz. 250/5 - Chris Juskey, Thornhill, Ontario, Canada
3rd - Rolls-Royce mod-1920 AC, RAF 1940 - Timothy Treadway, Winston-Salem, North Carolina

221. Armor; 1/72 Military Vehicles; Soft-skinned Military Vehicles
1st - Kubelwagen - Bill Powers, Birmingham, Alabama
2nd - Hf.2 Wagon - Allan Magnus, Regina, Saskatchewan, Canada
3rd - Stalwart Mk.II - Chris Ekstrom, Columbia, Connecticut

223A. Armor; Artillery Pieces - Guns
1st - 7.5cm FK7M85 - Allan Magnus, Regina, Saskatchewan, Canada
2nd - 8.8cm FlaK 36 - Herbert Horvath, Murrells Inlet, South Carolina
3rd - Italian Field Gun 105/28 - Harvey Low, Toronto, Ontario, Canada

228. Armor; Conversions and Scratch-built; All entries
1st - Canadian TLAV - Harvey Low, Toronto, Ontario, Canada
2nd - Diamond-T 4-ton Wrecker - David Falk, Greenville, Wisconsin
3rd - M32B1 - Mike McFadden, Scottsdale, Arizona




296. Armor; Out-of-the-Box; 1/72 AFVs, Open- and Closed-top
1st - PzKpfw. IF - Allan Magnus, Regina, Saskatchewan, Canada
2nd - French FT-17 - Tom Gaston, Ringgold, Georgia
3rd - Toldi-1 - James Elmore, Lawrenceville, Georgia

297. Armor; Out-of-the-Box; 1/72 Armored Cars, Halftracks, and Soft-skinned Vehicles
1st - Saladin Mk.2 - Philip Hui, Milton, Georgia
2nd - SdKfz. 231 - Thomas Moon, Houston, Texas
3rd - Jeep - Joe Dudek, Culver City, California

724. Dioramas; Armor; Dioramas and Vignettes, 1/49 and smaller
1st - Nothing Beats a Camel - Mike Fleckenstein, Fredericksburg, Virginia
2nd - Winter Exercises WW-I - Jorge Moreyra, Simpsonville, South Carolina
3rd - Tiger I Initial Production - Chad Bowser, Manheim, Pennsylvania

730B. Dioramas; Figures; Vignettes (no more than 5 figures) - Other
1st - Dragon Slayer - James Cox, Tallahassee, Florida
2nd - Zeus and Periphas - Maya Moreland, Jasper, Alabama
3rd - Will Someone Say Kadish for Them - Mike Fleckenstein, Fredericksburg, Virginia

820. Miscellaneous; Hypothetical; Kit-based (spurious markings on standard kit)
1st - Soviet Assembly Tank - Dana Smith, Weaverville, North Carolina
2nd - Do-335A-12 Nightfighter - Yoshida Masato, Saitama, Japan
3rd - German R-3p SAM - Gary Haars, Ooltewah, Tennessee

840A. Miscellaneous; Collections - Aircraft and Armor
1st - US Gun Motor Carriages, 1942-1950 - Philip Hui, Milton, Georgia
2nd - Ki-44 Shoki - Martin Jurasek, Oak Lawn, Illinois
3rd - Many Colors of the Bf-109 - Floyd Werner, Baltimore, Maryland

840B. Miscellaneous; Collections - Other
1st - European Swords Through the Centuries - Gregory Bowman, Titusville, Florida
2nd - Two Centimeters of Trouble - Allan Magnus, Regina, Saskatchewan, Canada
3rd - NASA Planetary Probes - Matthew Olsen, New Port Richey, Florida

860A. Miscellaneous; Miscellaneous - Tracked and Wheeled
1st - C&O GP39 Diesel Locomotive - David Sepos, Sharpsville, Pennsylvania
2nd - German BR 55 Locomotive - Alan Boyd, Denton, Texas
3rd - Recaptured Orient Express Train Dining Car - Paul Crawley, Marietta, Georgia

892. Miscellaneous; Out-of-the-Box; Miscellaneous (any subject not otherwise covered, except dioramas)
1st - Wurzburg Fose-65 Radar - Chris Derks, Alexandria, Virginia
2nd - German WW-I Krupp 21cm Morser - Tom Gaston, Ringgold, Georgia
3rd - American Bison - David Mason, Standish, Michigan