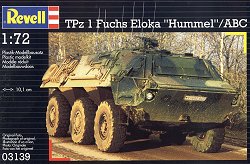 This new release gives us two additional options for building the TPz 1 Fuchs. Revell's original TPz 1 Fuchs A4 release included parts for both the standard APC, as well as the combat engineer version; this new kit allows us to build the electronic warfare version (Eloka) or the Nuclear/Biological/Chemical version (ABC). ("Hummel" [Bumblebee] is a nickname for the Eloka version.) In fact, all the original parts are included in this new model, so one could theoretically build any of the four versions from this new kit.
Here are the original parts:
The upper hull has been modified from the original kit, and now allows different roof pieces to be inserted dependent upon the version being modeled. This is the revised sprue with the new upper hull:

And here are the new parts, including the roof parts. The roof for the ABC version is the same as the original kit, and the Eloka roof is new.

I've compared the kit to photos from several books and on-line sources, and the details look to be precise. There are some small items, such as handles and brackets that are missing from the rear hull pieces, but they can easily be scratchbuilt. As with the original kit, the two main doors are open, but all other doors and hatches are closed. Also closed are all of the armored window shutters, which is unfortunate. Luckily, they are all flat plates and can easily be replicated and posed open.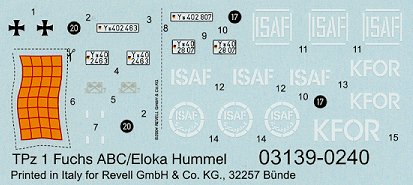 Markings are included for a Hummel during the Munster exercizes in 2003, and for 3rd Company, ABC-Defense Battalion 7, KFOR/ISAF.
The instruction sheet in my sample is missing construction steps #1 through #5. I think there was supposed to be a page inserted into the booklet, but was left out. Revell has sent me a scan of the missing steps, and you can view it here:

References:
"Fuchs" Transportpanzer (TPz 1) and Variants, Museum Ordnance Special No. 5, by D.R. Haugh
German Wheeled Fighting Vehicles, Concord Mini Color Series, by M. Jerchel
Jane's Tank and Combat Vehicles Recognition Guide, 5th ed., by C.F. Foss
Thank you very much to Revell AG for providing the review sample.