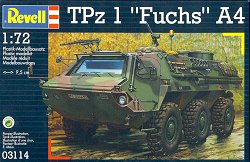 I really, really like this kit. It is one of the first of Revell's new modern vehicles, which exhibit some of the finest model making techniques in the small scale armor community today. This kit, and most of the releases after it, rival their 1/35th scale brethren as far as complexity of kit, and level of detail. Anybody who thinks that small scale armor modeling is "simplistic", has never seen this kit.
The kit represents the "basic" version of the Fuchs, but also gives optional parts for the combat engineer (pioneer) version. Unfortunately for those of us who wanted to build a KFOR vehicle, I believe that all of the Fuchs sent to KOSOVO were the newer, up-armored versions, which this kit does not represent.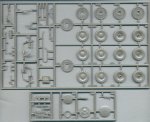 The wheels are exceptionally well done, being molded in three parts. This allows for the maximum amount of detail to be molded onto the hubs and tires, yet there are no sink-marks from overly-thick castings. The undercarriage is a kit all by itself. The complicated spring-mounted axle assemblies are faithfully duplicated, presenting the modeler with hours of building pleasure. Thankfully, the instructions are superior to most other model instructions, so construction of the undercarriage (as well as the entire kit) should be relatively hassle-free. Two superb MG-3's are included, as is a small piece of clear plastic for the windshield (not shown).
The side doors for the driving compartment are molded open, but no interior detail is provided, which is dissappointing. None of the other hatches are open. Also not included are figures, which hopefully Revell will someday decide to include with their kits. Most of the pioneer tools are finally molded as separate parts! But there are a couple shovels which are molded onto a separate rack, and actually are not much better than had they been molded to the hull. But for the most part, the tool situation with this kit is definitely a step forward in design.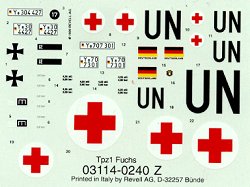 Markings are included for two vehicles: Panzerpioneer Company 320 in 1999, and an ambulance of the UN contingent in Somalia, 1992.