Civilian figures are very rare in our scale, and yet I imagine that many scenes that we choose to depict in our dioramas might benefit from having some of them around.
This simple 2-figure set comes to our aid, depicting two old ladies. One is carrying a basket of supplies. (In my scan the handle got bent, so it looks like the goods are about to fall out; it can easily be straightened.) The other is sitting down, and while I am not sure what she is doing, it looks like she is plucking a goose.
Detail is austere, yet convincing with nice folds in the clothing. Facial expressions are good, although I the deep eye sockets of the standing figure and the hooknose have something outerworldish. A quick jab with the scalpel and a thick drop of paint will probably take care of this.
The standing figure is 172 scale centimeters tall, which might be on the tall side for a WW2 woman, unless perhaps you want to depict a scene in Norway or Holland.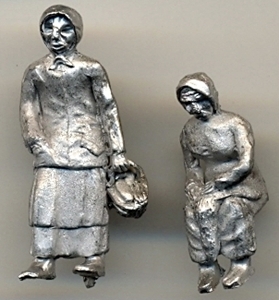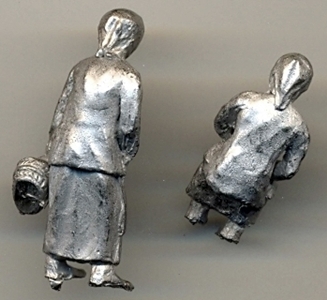 Sample kindly provided by Ian Hanratty of Wee Friends.