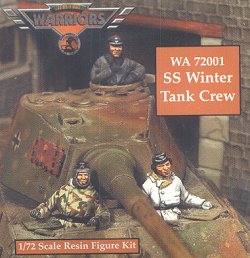 I was very surprised to find out that a company well known for its 1/35th scale resin figures had chosen to branch out into 1/72nd scale. Their first release was this set of three half-figures of late war SS Tank Crew in winter uniforms. This initial foray into this scale was followed in typical fashion by more WW II German figures, and this company now has five figure sets in their small scale line-up. I hope they continue this series, for these are indeed, extremely fine figures. In fact, they are some of the best I've seen.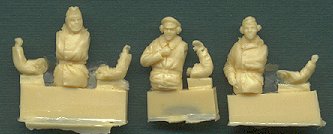 The detail on these figures is really fantastic. The sculpting is superb with very distinct uniform details, and the casting is flawless. Body proportions are very good, and although I cannot measure the total height of the figures, they appear quite robust and perfect for 1/72nd scale.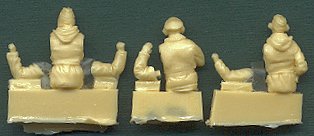 The cover sheet shows the painted figures with three color variations of the winter uniform. The modeler is limited only to what his references show. This is one of my favorite figure sets, and I hope that this line of small scale figures proves profitable for Warriors, so that they will continue to release new sets, and may also be encouraged to widen the scope of their series into other nationalities and time periods.
My very sincere Thanks to Chris Kowall for providing the review sample.