This comes with The World at War magazine number 11, which has now started on British forces and equipment 1939-45 (the first 10 editions being German subjects).

The magazine

A dual English and German text by Peter Brown describes aspects of this multi turreted tank, of which 125 were built. There is a useful section that explains the British early war marking system and the build instructions are on the back of the magazine.

The kit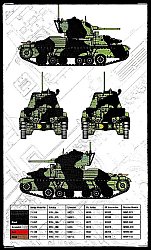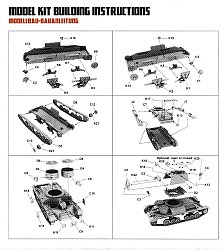 This is beautifully detailed and went together easily. The commander's hatch can be built open or closed. Watch out, part K15 (x2) is in the wrong place in the instructions, best to add it after you have positioned the two suspension bogies which will show you where it should really go. Also, best to follow this assembly sequence - first add the tracks to the lower hull (C13), then add track guards (J1 and J2) and finally add upper hull (C7). The one piece tracks are bit simplified but I can live with that. The only slight criticisms are the shovel is a bit thick, the lifting rings on the turret are very tiny and probably impossible to drill out and the exhaust silencer lacks the metal cover/guard which the Plastic Soldier Company A9 kit does have.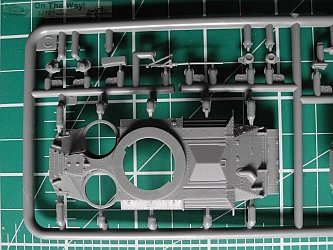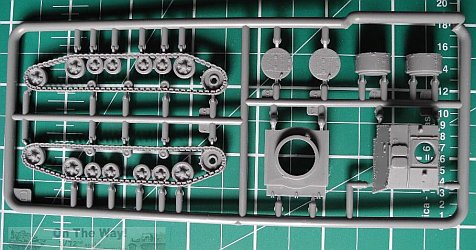 Above are a few photos to show the level of detail.

The markings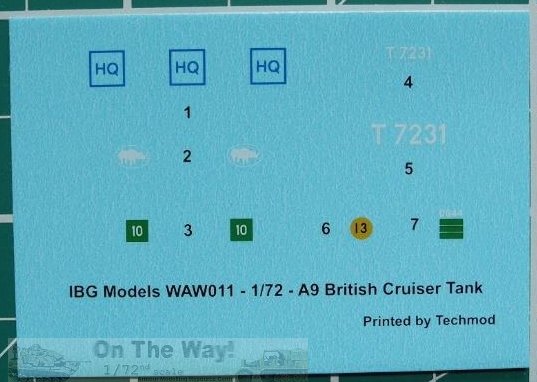 The box art shows a tank of A Squadron 3rd RTR (white 8 on green square) however, the kit decal is of an HQ tank B Squadron 5th RTR (white 10 on green square), along with a bridging number, the white rhino of 1st Armoured Division, a census number and an embarkation marking. As mentioned previously, the general system of marking British tanks is explained in the magazine.

Conclusions

A lovely kit, I look forward to the rest of this new series and based on previous output from IBG WaW, I suspect we will be getting a desert version A9 with sand shields and maybe a close support version with a 3.7 inch howitzer/mortar. And don't forget we now have the lower hull and suspension for the A10 and the Valentine! Accuracy, well using the figures from an earlier On the way! review of the Plastic Soldier Company A9 you can see this kit is 1/72 scale.


| | | | |
| --- | --- | --- | --- |
| | Scale measurements | PSC A9 | WaW A9 |
| Length 19 feet = 5.80m | 80.5mm | 80mm | 80.4mm |
| Width 8ft 4in = 2.50m | 34.7mm | 35.5mm | 35mm |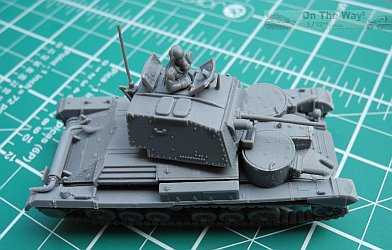 Above the finished model, not glued so a few gaps are visible, I just need to sort out the silencer and add the G3 and G4 camouflage scheme. The commander figure comes from the PSC kit and fits perfectly into the open hatch.

I include a photo of the Plastic Soldier Company A9 I made earlier this year to show the level of detail you get with it, clearly the WaW A9 is a more detailed or refined kit, but I'm happy with both.




Above is the PSC A9 I did as a Close Support version (with 3.7" howitzer/mortar), and although I replaced the MG barrels and added a few bits, it gives a good idea of the level of detail of this kit when compared with the WaW A9.

References

Cruiser Tanks A9 & A10, Peter Brown (2017), Armor Photohistory #5, Model Centrum Progres ISBN-10: 8360672288 ISBN-13: 978-8360672280

Preview sample purchased by the author.

The World at War products are available at