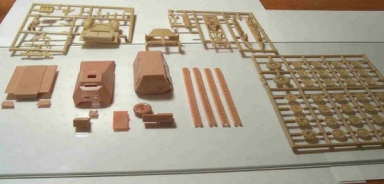 Material: Resin (Volkspanzer Models conversion pieces) & Plastic (Hasagawa base kit)
Quality: Casting is great with lots of detail on model little to no flash and little to no air bubbles!
Parts: 14 pieces (Volkspanzer Models) armored hull top & bottom, door, top hatch, L& R mud flaps, 2x stowage boxes, spare wheel , base plate for armored hull and 4x track sections. The hull is hollow and vision areas have thin resin skin which is easily removed and since the door is a seperate piece, it leaves the modeller with the option to super detail the interio of the V-2 controls station.
Instructions: exploded 3D diagram
Packaging: Sealed, sturdy Cardboard box with nice label and line drawing & Zip-Loc bag for resin pieces
Additional: The Volkspanzer Models line will eventually include all the equipment used fo for the testing and controlled firing of the V-2 Rockets (some of the equipment which has never been produced in any scale and some unknown items as well!).
Disclaimer:
Article shared with http://www.ww2militaryminiatures.com with permission of the author and owner.