This was a surprise find for me. I had never heard that Techmod was planning on producing 1/72nd scale AFV decals, and I stumbled upon these at the JADAR hobby shop accidentally. Techmod originally marketed a set of 1/35th scale decals for Tigers, and I guess they decided to use their research to the maximum, and reduced the decal size to fit our needs. Indeed, even the "recommended kits" listed in the instruction sheet are 1/35th scale Tiger kits.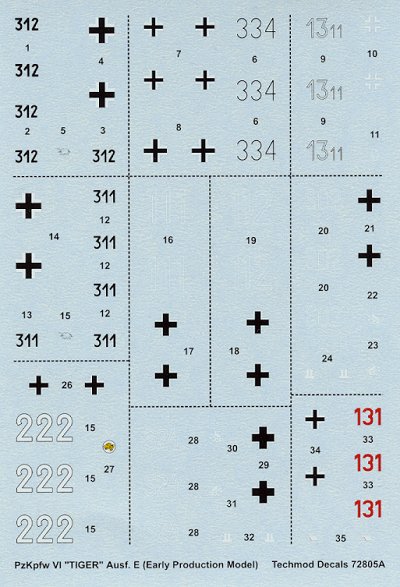 This second of two sets of markings for Tiger tanks are for early production model Tigers. The decals are some of the finest markings I have yet found. They are printed remarkably thin (which means great care will be needed to apply them), and the printing is exact: no registration problems at all on my sheet. This is especially important, considering the very low tolerance of even the slightest deviation in register at this scale.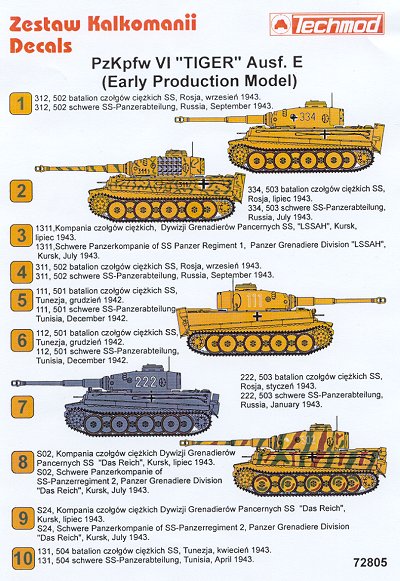 Markings are included for 10 vehicles. The above scan shows only the "preview" page of the instructions; each vehicle is also treated to complete three- or four-view color artwork showing camouflage scheme and marking placement. I have noticed a couple of inaccuracies in the artwork; for example, in the above scan you can see the vehicle #5 is depicted as having an escape hatch on the turret side, when in fact, it should be a very early Tiger with a pistol port there instead. I don't think that these drawings are meant to be used as reference for kit details, but only for paint scheme and markings, so keep that in mind.
These are outstanding decals, and I hope that Techmod expands their line of 1/72nd scale markings to include other vehicles and nationalities.