The M1114 received the GPK (Gunner's Protection Kit), with an added lateral and posterior protection, when experience with the simpler GSK (Gunner's Shield Kit) showed that the gunner was rather overexposed, particularly during urban fighting which was so frequent during recent conflicts. Since the GPK was distributed before the Iraq war started (2003), these vehicles look to be the most frequently used during that conflict.
Differences with the M111a with GSK (no. 7201)
The M1114 with GSK, which was the first kit produced by T-Model, was previewed and reviewed some time ago, and the present kit is a logical evolution of the same kit, which was very nice and encountered a discrete success.
T-Model, however, is not sitting on its success: other producers might have proposed the same exact kit, with an extra PE set for the GPK and nothing else. Instead, T-Model heard the minor complaints about their first M1114 and, while correcting the most glaring errors, added some more PE details which make the kit even more accurate, despite its dimensions.
Since most of the differences consist in a newer PE set, I am not going to post photos of the sprues, which are fundamentally the same. Just by looking at the instructions, we can see what has changed.
Apart from the GPK (step 18) many more interesting PE pieces are introduced, such as the rear deflector panel (PE 8-9), a protection for the engine (PE 1) and a Combat Identification Panel (CIP) on the hood (PE-3), the rear support for the 2nd antenna (PE-12), two rear flaps (PE-11) plus some more. About the plastic parts, I can confirm that the error with panel B11 (AC grills) has been corrected. However, still no gunner's stand and internal communication equipment, which should really be there in a kit of this quality.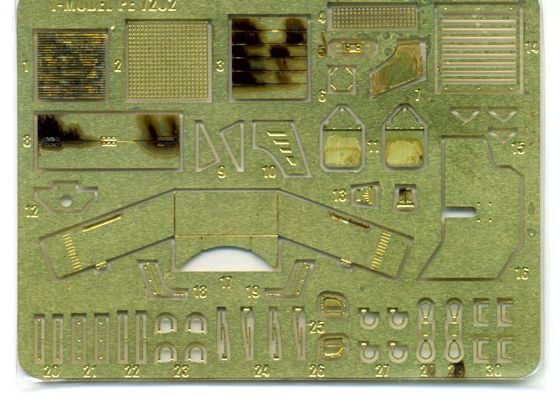 This is the supplied PE set, very complete and much larger than the first one. The strange burnished look on some pieces is probably due to some degeneration of the glue of the adhesive tape, and I am confident that it will disappear with some washing.
Conclusions
T-Model cleverly adds to their range of M1114s with an iconic vehicle of the Iraq War and, given the number of variants and on-field modifications seen on the M1114, I suppose that T-Model will be releasing more verions in the near future, possibly the one with O-GPK which was very popular too. Given the quality of the kits, this is certainly good news for 1/72 modellers.