Stug IV
Manufacturer: Revell Kit #03101, Matchbox Kit #40180, Monogram Kit #2320
By Wojciech Duda - mcwojtekk(at)gmx.de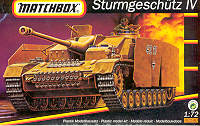 This older kit is one of the last released by Matchbox - now it is avaiable from Revell AG. I had a look at an old Matchbox kit, but there are no differences in the parts. The kit consists of 4 sprues - upper hull, lower hull, two different track/wheel sprues. The instructions are okay - they actually look like Revell instructions with the logos exchanged.
The lower hull is quite good, although it cannot stand up to Revell's newly released Pzkw. IV's. It represents the earlier version of the Stug IV hull, similar to the Pzkw. IV H, having four return rollers and an identical exhaust system, but has absolutely no detail on the bottom. The idler wheel is not entirely correct, but okay, too. The MG shield is too thick and lacks detail on the inner surface, still the worst part on this sprue is the MG - I have seen better ones in old Matchbox kits from the 70's.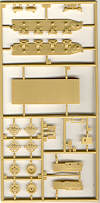 The upper hull is also good, with nice detail and all three crew hatches open. There is one glitch though: the tools are all moulded on. The engine deck is not as good as in the new Panzer IV's, but not bad either. The skirts are a bit thick. But the real problem is the gun. Look at that muzzle break! It would suit a 50 mm PaK in 1:35... It is overscale, yes.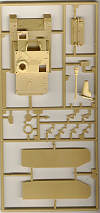 The tracks are hard-plastic link-and-length, but they lack detail on both sides. The worst thing in the whole kit are the bogey wheels - there are single, double wide wheels where there should be two wheels. The shape resembles the late war steel-wheels, but only the first two stations on each side were equipped with these.
I got the decals from the old Matchbox release, but they were made by Revell and are really good quality. I have no material regarding correctness, though.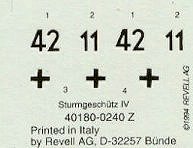 The kit is okay, but to make it look really good you'll have to give Revell the chance to make even more money, get a Revell Panzer IV, and exchange the whole lower hull, the engine deck and the gun with parts from the new kit. But if you do, it should look almost perfect.
---