88 mm Pak 43/41
Manufacturer: PN Sud Modelisme (Kit No. 72 80)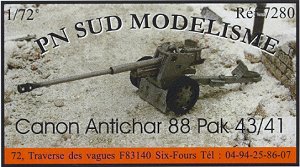 At one time I was searching for a Pak 43 which I could use for a Hummel to Nashorn conversion project, so when I saw this kit advertised, I thought all my problems were solved. I was wrong. It is such a beautiful kit that there is no way I am going to build this gun without putting it on the mount and chassis that comes in the box. I guess I am going to have to buy a second on for my planned conversion.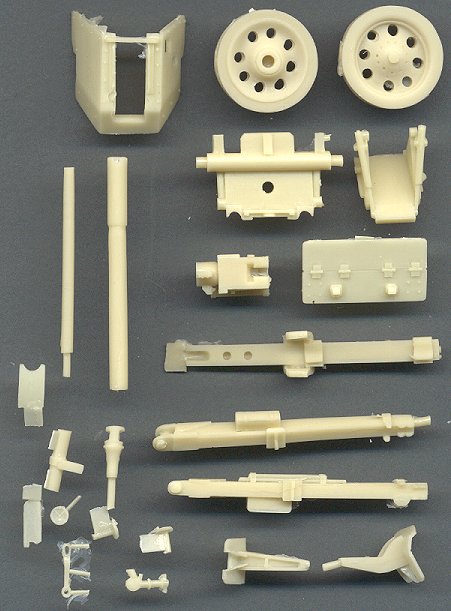 It seems that all the best resin kits are coming from Europe nowadays. I do not mean to disparage US resin manufacturers, for I am speaking about quantity, and not only quality. Every few months I find a new European company with lists of unique and long-sought after items. It has been a while since an American company has released any new resin kits. I wonder why that is?
This particular kit is an outstanding beginning for a company which until now, has focussed only upon beach obstacles and fortifications. From what I understand, PN Sud will be releasing a couple more gun kits in the future. The resin is top-notch; the masters and engineering are very good. There are one or two very small bubbles in my sample which will be easily fixed. The gun shield has a groove cut along the edge to accurately represent the double-layer armor of the shield.
The instructions include seven color photos of the kit in progress, and five photos of the completed model. Although the extensive text is in French, non-French readers should have no problem assembling the model. This is a fantastic kit, and I anxiously await their new releases.
---