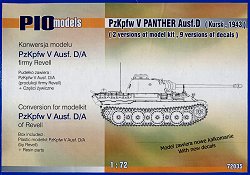 PIO Models is another company that has been around for a while now, but I have just now seen one of their products. They have recently announced a new website, so check it out.
This model, like most of PIO's kits, includes a complete plastic kit from some other mainstream manufacturer, in this case, the Panther D/A kit from Revell. They have combined this model with some resin conversion parts and decals specially printed for this release. Additionally, this particular kit also includes a set of Panther Tow Cables from Eureka XXL, PIO Models' sister company.
For information about the plastic Panther kit, please refer to the preview of the Revell release of that model.
The conversion parts included in this kit are pictured below: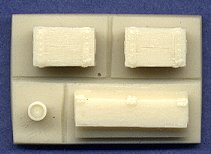 As you can see, there is not much in this particular kit, just a storage bin for the side of the hull, two storage boxes for the engine deck, and an antenna pot for a commnad version of the tank. There are also two lengths of thin styrene rod for use as antennae (not pictured). I probably should have requested a different review kit from PIO so as to better show off their resin casting abilities, since there are so few parts to this conversion :-) But regardless, these parts are extremely well made. The woodgrain detail on the two storage boxes is very well done, and the casting of the parts was excellent, with no air bubbles or other flaws.
Although the instructions are not completely clear, you should attach either the hull storage bin OR the two wooden storage boxes on the engine deck (these wooden boxes should be attached to short brackets keeping them off the engine screens - perhaps 2-3mm lengths of plastic strip would work best). I have perused through many of the Concord books on eastern front battles, plus other books on Kursk in general and on the Panther in particular, and it seems to me that tanks in Panzer Battalion 51 had the hull side storage bin, while tanks in Panzer Battalion 52 had the two wooden boxes on the engine deck.
To be most accurate in producing a Kursk-era Panther, there are a couple other things to keep in mind: attach both headlights; make the corrections to the Revell turret called for in its preview (communication hatch, pistol ports, and smoke grenade launchers); and you may or may not attach the side skirts. I've seen one source state that Kursk Panthers did not wear the skirts, but I have seen other references that show some with skirts mounted. I don't believe that Kursk Panthers had zimmerit applied. If someone knows otherwise, please let me know.
The final item included in this conversion set is a sheet of specialty decals for the 39th Panzer Regiment: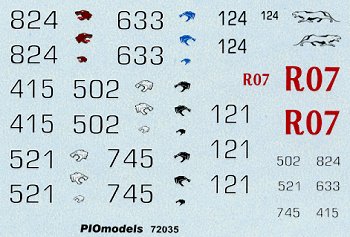 These decals appear to be printed by the same folks who do the Techmod decals, and they look great. Nice and thin, good opacity, and printed in register. There are markings included for an amazing nine different vehicles, although there are no crosses provided, so those will need to be obtained elsewhere.
All in all, I am very impressed with this kit. It is a simple conversion, but with the inclusion of the Eureka tow cables and the excellent decal sheet, it makes it quite worthwhile. Perhaps for future releases, PIO Models could consider adding smoke grenade launchers. If they feel really energetic, they could also provide a new turret that corrects all the deficiencies in the Revell Ausf. D turret (and while we're dreaming, how about some new wheels with only 16 rim bolts?).
Thank you very much to PIO Models for the providing the review item.