M3 Halftrack Photoetched Brass
Manufacturer: PART (# 72001)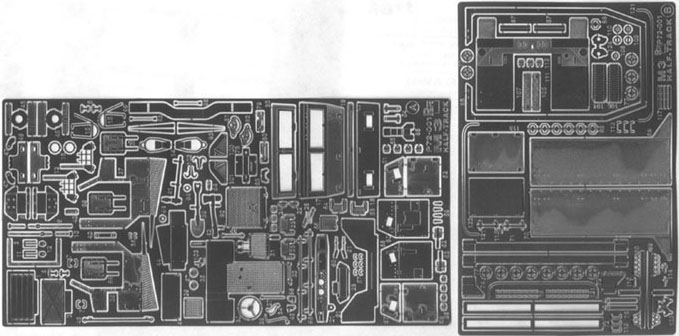 This is another one of PART's very extensive sets, with well over 200 parts, which include:
headlight guards and details
gas can detals and racks
armored windshield and details
instrument panel and steering wheel
engine intake grate
front fender details
driving compartment details
parts for the .30cal machinegun and pedestal mount
few undercarraige details
fighting compartment walls
mines and racks
doors and storage box
trailer hitch and tail light details
canvas top framework
pioneer tools
Most of this set is useful for all versions of the M3 halftrack. Once again, with the exception of the pioneer tools, everything in the set is very useful, and will result in a spectacular model. It also includes a clear acetate windshield and instument dials. This set contains some of the smallest parts I have ever seen in an etched brass set, and I wonder if I'll be capable of handling them...
---