Vickers 6 ton/7Tp/T-26 Tracks
Manufacturer: Part (P72-107)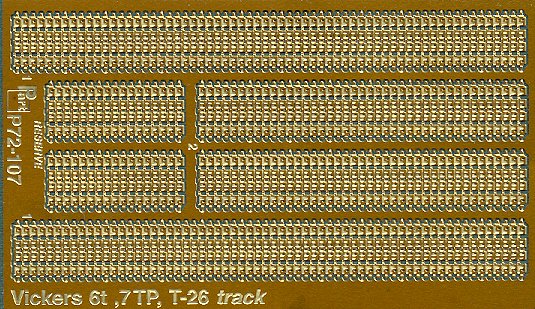 This has long been my most wanted accessory set, and when PART finally released them, I was unable to get my hands on one until now. I now only need about another two dozen sets to go with all my needy kits.
Consider, these tracks are better than, and in some cases even necessary for, almost 30 different models:
Modelkrak Vickers tanks (x2)
Modelkrak 7Tp tanks (x2)
Modelkrak C7P
Modelkrak T-26 tanks (x5)
Skif T-26 tanks (x4)
Mirage Vickers tanks (x3)
Mirage 7Tp tanks (x2)
Mirage C7P tanks (x3)
Mirage T-26 tanks (x4 and counting)
UM T-26 tanks (x2 and counting)
And considering their small size, they may also be used as "generic" tracks for other tanks with small track sizes. In my opinion, this set is definitely the most impressive and useful accessory set released this year.
---