The all-round vision commander's cupola which facilitated greater situational awareness, along with the 3-person turret was a significant reason for the success of the German Panzers over allied tanks with thicker armor, bigger guns and greater numbers. I understand the turrets for both the Panzer III and the Panzer IV were designed and built by Krupp which I believe explains why the turrets look so similar and use the same cupola.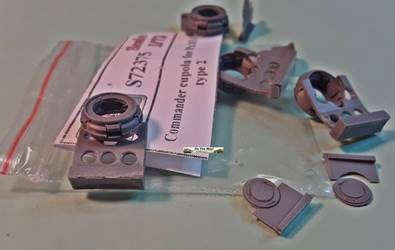 This second set of 1/72 scale replacement cupolas pictured below is for mid to late-war Pz IV tanks. It appears very similar to the cupola set 72374 except for the single round hatch that opens on a hinge. Inside the small plastic bad are four cupolas of two cast resin parts each: a cupola and the round hatch on separate pour plugs. On the underside of the hatch we see the head cushion/pad and three small latches to secure the hatch when closed.
Casting quality and detail are very good. The five armored visors around the circumference of the cupola are all open. If you leave the hatch open, we can see good detail of the vision blocks and padding inside. No parts look warped though there is some light flash to cut off.
While other OKB Grigorov hatch accessories I have come cleaned off, this set came still attached to the pour plug. Separate the pour plugs with a sharp blade and razor saw. Wash in mild detergent to remove dust, mold lubricant and fingerprints.
What I have read and seen in photos is that this hatch opens and locks in place just past the vertical. The type-3 hatch opened on a pivot like the Pz V Panther hatch and was common on the Pz IV Ausf. J. With some modification I think this hatch can be altered to a hatch that lifts and pivots, the type-3 hatch.
1/72 scale plastic Pz IV model kits we may use this cupola on include the Dragon Pz IV Ausf.H kit 7497 and kit 7551, ESCI Pz IV Ausf.G and H kits, Hasegawa Pz IV Ausf.G kit, the Revell Pz IV Ausf.H kit and Revell Pz IV Ausf. J kit, the Zvezda Pz IV Ausf.H kit, and Plastic Soldier Company Pz IV kits, and others.
Pz III model kits this cupola would improve include the old ESCI Pz III Ausf.N kit, Dragon kit Pz III Ausf.N kit 7407 and others. I have not found this cupola and single round hatch used on the Pz III Ausf. M and earlier variants, though it could have been retrofitted during a repair. From photos it appears the Pz III Ausf. N could have the split cupola hatch or the round hatch.

This accessory was purchased by the modeler.

OKB Grigorov products are available at