These aftermarket cast resin track lengths are replacements for 1/72 scale kit tracks such as those in plastic IBG kits 72048 and 72050, and resin kits 72008 and 72012 from Hunor Product. This replacement track is for an uncommon model kit of a rare WW2 AFV. Both the Hunor and the IBG kits of the Hungarian Turan and Zrinyi are great kits that I recommend and this track enhances them.
In a small zip lock bag, we get six lengths of gray color cast resin track, 6.7-cm long, for a total of 40-cm of track attached to pour plugs. The OKB track is at the bottom of the photo on the pour plugs. The IBG Turan and Zrinyi kits have about 33-cm of track, so using the OKB track leaves us with about 7-cm of extra track to use as appliqué/spare armor perhaps or to replace damaged pieces.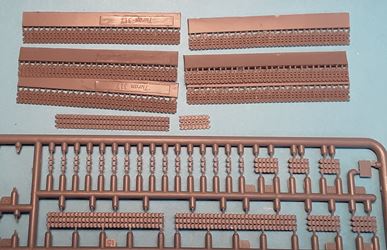 The injection molded plastic tracks that come with the IBG Turan and Zrinyi kits are in center and below. The detail and molding quality of the IBG tracks are good, but the quality and detail of the OKB track is very good, notably better. The resin track arrived undamaged, had no obvious defects, and separates from the pour plugs with a sharp blade. I recommend washing the resin track in a mild detergent to remove mold lubricant. Dip the resin track in hot water to help bend it around the wheels and to add track sag.
I purchased my OKB Grigorov products at