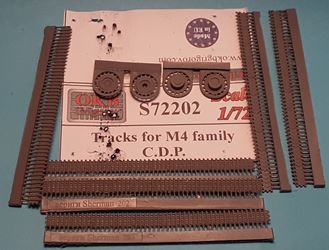 The M4A1s "Grizzly" is an M4 Sherman variant produced by Montreal Locomotive Works in Canada. It outwardly appears to look like a small-hatch, cast-hull, M4A1 with VVSS suspension, but with some minor and major differences. The most significant difference from the US made Sherman is the use of Canadian Dry Pin (CDP) track with a new sprocket wheel rather than the VVSS live track used by US produced Shermans. (please see here for further information). I am not aware of any smallscale M4 Grizzly kits or conversions other than this one, so making a Grizzly model has been hindered by the lack of this distinctive track and sprocket wheels, until now. The CDP track I believe was a "dead" track so could have a little track sag between the return rollers.
The set label states "Track for M4 family" though my research indicates that this track was only used on the Canadian made M4A1 Grizzly tank and Sexton self-propelled gun. I have read that in WW2 Grizzly's were used for training in Canada and the UK, and in the 1950's about 50 Grizzly's were sold to Portugal.

In a small plastic ziplock bag we get six 8-cm long runs of gray-color cast resin track for a total of 48 cm of track, 24-cm each side, and four sprocket wheel parts on two pour plugs. The track for a Dragon M4A1 is 16.5-cm long so we have lots of extra track to use as appliqué armor or to cover for breakage. Quality of the track molding is superb, none of my track was broken or had visible defects. I have found that separation of the OKB track from the pour plugs is simple with a sharp blade.

The above photo compares the gray resin OKB track with the injection molded plastic track from an Eduard M4 model kit, and light amber color soft plastic band track from a Dragon M4 kit. The OKB track has wonderful detail, and is not too fragile compared to other resin products I have worked with. I recommend washing the resin track in a mild detergent to remove mold lubricant. Dip the resin track in hot water to help bend it around the wheels and add track sag.
The photo below shows the difference of the 17-tooth sprocket wheel of the CDP track versus 13-tooth sprocket of the typical M4 Sherman with live track. This is such a unique track that it comes with the sprocket wheels, where most OKB track sets do not include sprockets.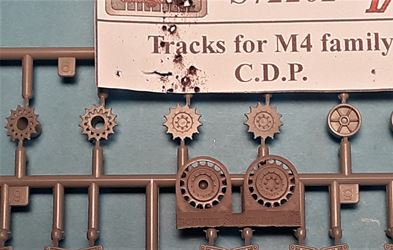 References
I purchased my OKB Grigorov products at