This is a cast resin smallscale model of a late WW2 Soviet tank that was as a replacement, supplement and/or progression of the T-34 tank. Looking at the turret we see the similarity to the T-34/85 tank. The hull appears very similar to that of the T-54 tank. The track and suspension has progressed from the coil spring Christie type of the T-34 to the torsion bar suspension like that of the T-54 and T-55. My reading states that a little less than 2000 were built and though available for WW2 in 1945, none were sent into combat. After the war it was kept secret from the Western Allies during the cold war and was eventually replaced by the T-54 and T-55. In addition to greater armor it was lighter and faster than the T-34.
The boxart photo below shows a tow cable over the glacis and the splash plate.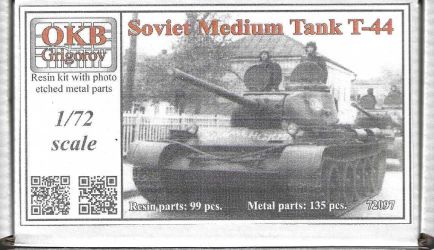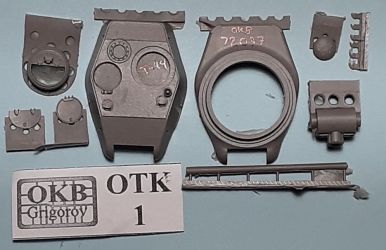 I counted about 109 gray cast resin parts on pour plugs plus two cast clear resin parts, including six 7.5-cm lengths of track, plus 104 etched brass parts on two frets. This count of the total number of parts is off from that listed on the box which I cannot explain well; perhaps there are extra parts in addition to miscounting? There are no decal markings nor crew figures included. The above photo shows the resin turret parts minus the brass parts. The hatch openings appear to be blanked off, but this can be cut out so figures or aftermarket interior detail can be added. The 85-mm gun barrel (part 47) is at lower right and surprisingly does not have the muzzle open, so we will have to drill it or replace it with a turned aluminum barrel.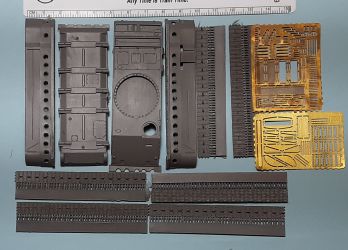 Casting quality and detail is superb and typical of OKB kits. I have few references for this Soviet tank so cannot assess the kit for accuracy compared to a real T-44. The torsion bar suspension arms (parts 56) are separate, meaning that until the tracks are glued around and onto the wheels, they will be very fragile. We'll also have to be very careful to align the torsion bars and wheels straight to line up with the track guide teeth. There are so many small and detailed parts I believe this model is best for an experienced modeler; for example, most smallscale models mold the torsion bar bump stops to the hull part but on this T-44 model the bump stops (parts 59) are separate and to be glued on. A nice attention to detail is that the wheels are detailed on both the inside as well as the outside surfaces.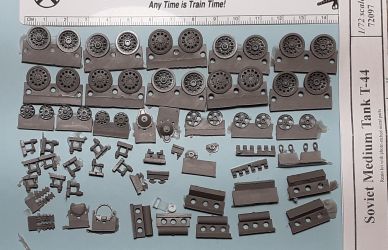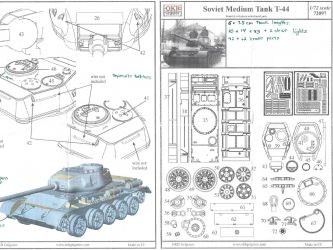 OKB supplies very nice line drawing assembly directions and a parts diagram, not as complete and clear as a Revell or Trumpeter kit instructions, but much superior than what many resin kit makers give us, which is often nothing.
This model was a review sample from OKB Grigorov and I thank OKB for this, though I normally purchase my OKB Grigorov products at