I found little information and no photos of this British assault tank of the WW2 period. It appears to be a heavily armored vehicle along the lines of the German Sturmpanzer. Based on the included parts it appears to have torsion bar suspension rather than Christie suspension like many British cruiser tanks. The wheels and track do not resemble the suspension of other British AFVs of the time.
At the front we see two round casemates for what appears to me to be a 6-pounder gun or 3" mortar and coaxial machine gun on the starboard side, and a 20-mm gun and coaxial machine gun on the port side; these are not turrets. These casemates look like they would be crowded for one crew member, let alone two? Crew visibility and situational awareness does not look adequate. On the rear of the superstructure roof is what appears to be a remote-control turret with twin machine guns. Between the gun casemates is a commander's cupola on the roof with what appears to be a plethora of periscope ports. On the glacis between the gun casemates is the driver's hood with a hatch and periscopes. On the side of the superstructure is spare track. There is a significant armor skirt protecting the wheels.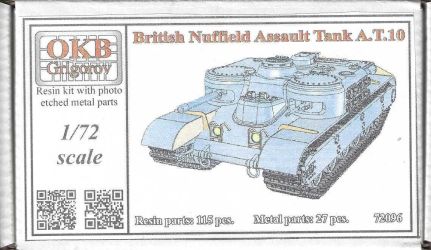 I counted 118 gray cast resin parts on pour plugs plus four clear cast resin parts which I believe are headlights or spot lights, and about 27 etched brass parts on a single fret. There are no decal markings nor crew figures included. The resin parts include six lengths of excellent track of 8 cm each. Casting quality and detail of the parts are very good with no sinkholes or defects obvious, just some thin flash to clean off and cutting the parts off the pour plugs. The torsion bar suspension arms are separate, meaning that until the tracks are glued around and onto the wheels, they will be very fragile. We'll also have to be very careful to align the torsion bars and wheels straight to line up with the track guide teeth.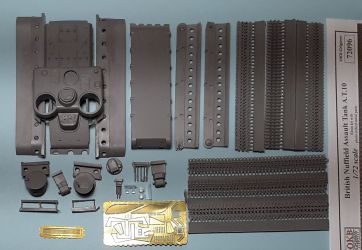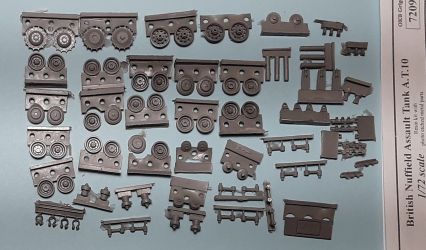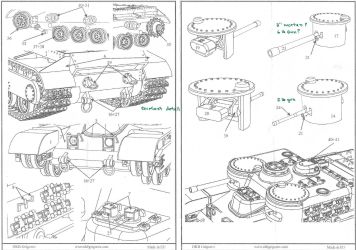 I commend OKB for taking the effort to supply a well-drawn parts diagram and some drawings showing assembly. Study the parts and: "dry fit twice, glue once".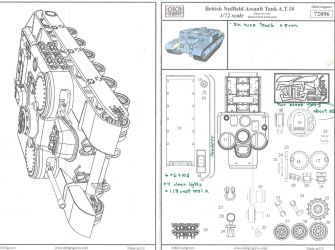 This model was a review sample from OKB Grigorov and I thank OKB for this, though I normally purchase my OKB Grigorov products at