I understand this is a "paper panzer" that was in planning to replace the Pz II Ausf. L Luchs but never reached the prototype stage nor production, though the turret was later used on the Sd.Kfz. 234/2 Puma armored car.
In the boxart we can see the Panther-like hull, 5-cm main gun, wide track and interleaved roadwheels, and letterbox viewport for the driver.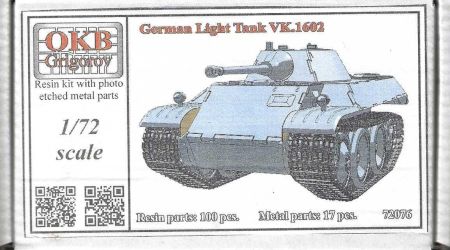 I counted approximately about 72 cast resin parts on pour plugs and 17 etched brass parts on one fret. Detail and casting quality is superb with no significant air bubbles or defects, just cutting off the pour plugs and minor flash to clean up. I know the box states 100 resin parts, not 72 but the kit appears complete and with so many parts it is easy for me to miscount. There are four lengths of 11.7-cm long track. There are no decal markings nor crew figures included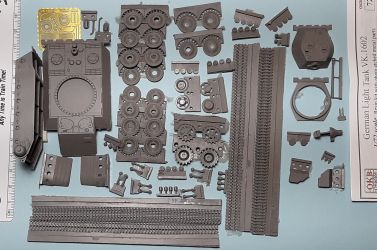 Parts look to be defect free and crisply molded with pronounced detail. The crew hatches are molded closed but the muzzle of the 5-cm gun barrel is molded open. The assembly instructions are great, well thought out and drawn, especially considering what we typically get with resin kits!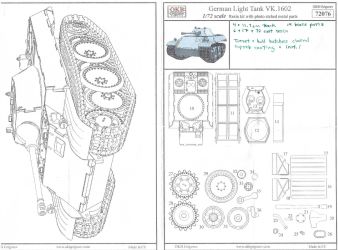 All the torsion bars are separate which allow us to articulate the suspension as over rough ground though the delicate arms add the challenge to get them and the wheels all aligned straight. Notice that the torsion bar arms are swung forward on the port side and are installed swung to the rear on the starboard side. In Step-B notice the spacers between the roadwheels. I recommend mounting the finished model on a base to protect the arms from breaking. Soak the excellent track in hot water and quickly mount them with super glue, bending the track around the wheels and adding track sag on the top run.

Reference
This model was a review sample from OKB Grigorov and I thank OKB for this, though I normally purchase my OKB Grigorov products at