This preview covers two types of track used by the M4 Medium Sherman tank with the Vertical Volute Spring Suspension (VVSS). The VVSS track came in rubber block and steel construction with both flat bock with no tread pattern, and quite a variety of tread patterns. This aftermarket resin track can be used on Sherman variants such as the M7 Priest, M12 GMC, M3 Medium, M10 GMC and M36 GMC, etc.; but check your references to see if the track is appropriate and check to make sure the track will fit your kit sprocket wheels.

To reduce the high ground pressure of the 30 ton Sherman, extended end connectors were invented to help the tank float better on soft ground. Because of their shape these extended end connectors were often referred to as "duckbills" because of their resemblance to a duck's bill. So, you could say that the "duckbills" helped resolve the "Mallardy" of the Sherman's high ground pressure. Duckbills were common in NW Europe during late 1944 and early 1945.

The only other track duckbills I recall in small scale are an etched brass fret of duckbills from a manufacturer. The tiny individual extended end connectors had to be cut from the fret, bent to shape and then glued onto whatever track you are using... a lot of work. I do not recall who made this etched brass fret or if they are still available.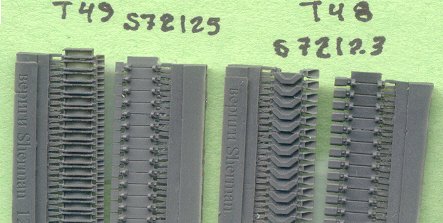 Here is a close-up of OKB's T49 Set S72125 track with standard production extended end connectors at left, and T48 track with longer extended-end connectors that I believe are the type produced in Belgium in 1944-1945. The T49 is an all steel block track with parallel bars type treads (grousers). I've seen this track used on Shermans used by the US Army, USMC and Soviet forces. This track type is offered in a Dragon Sherman kit, but without the duckbills. This style of duckbills were standard issue for all M4A3 E2 Jumbo Shermans.

The OKB T48 track Set S72123 track is an all rubber block with a chevron tread pattern and is one of the most common track types I've seen used by Sherman variants. These duckbills on set S72123 are notably longer than that on the T49 track set. The track are cast very well and look like brand new, unworn track, the tread could use some softening of the edges to portray tracks in use for a while. The track guide teeth are very well portrayed.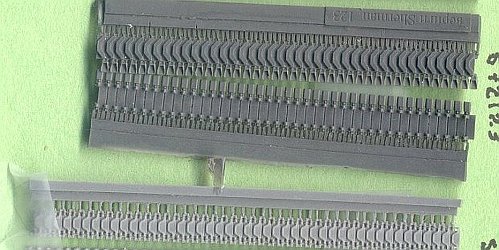 This photo shows a difference in the length of two different sets of resin track offered by OKB, the T48 at top and one of OKB's T54 track sets at bottom. The two tracks are different color resin and different lengths. No problem with this just a difference.

I have heard that the OKB resin is flexible enough to bend the track around the suspension and glue the ends together. The track will have to be cut to the correct length first. The OKB track are a little wider than the track from ESCI, UM, and Trumpeter and others, so we may need to adjust the kit's sprockets to fit the track width. The OKB tracks appears about the same width as the Dragon 1/72 Sherman track.

This last photo below shows the complete set of the OKB T49 Set 72125 track with standard production extended end connectors: six identical track lengths attached to pour plugs. In both the T48 and the T49 sets, there are six lengths of 80-mm long track for a total 480-mm of track. A set of soft band track for the Dragon M4, M4A1, M4A2 and M4AA3 1/72-scale Sherman models are about 160-mm long, so accounting for possible breakage we have two extra lengths of OKB tracks in each of these two sets. There is also plenty of track for an M4A4 or M4A6 with track links left over.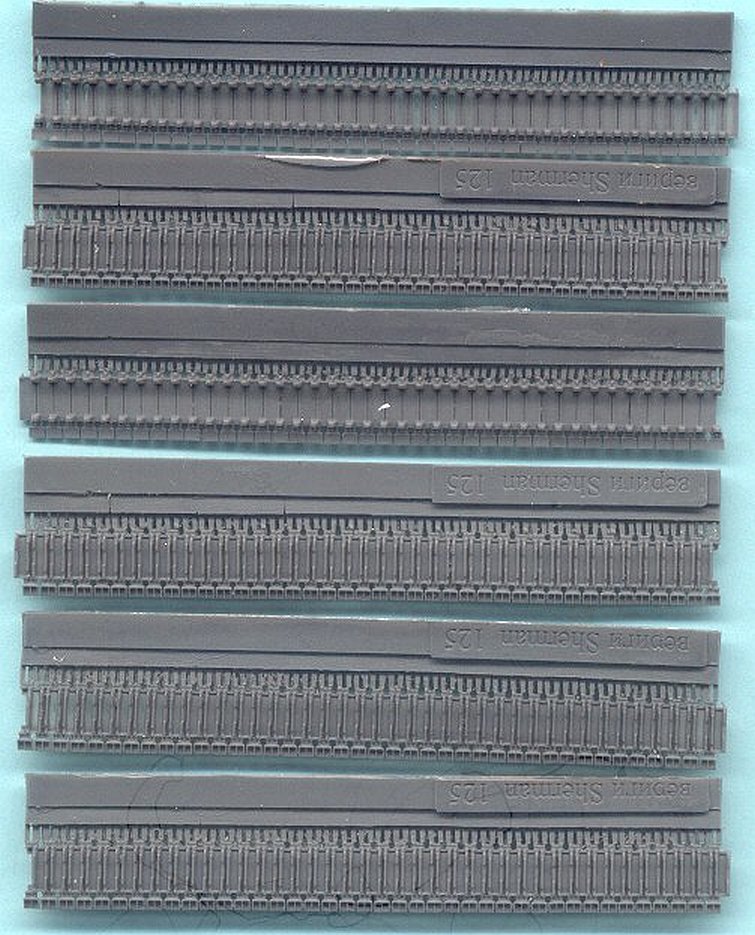 Keep in mind that the VVSS track used on the M3 Medium and the M4 Sherman are "live track" which does not sag when in good condition, so when modeling a Sherman variant it would not be accurate to show track sag like we would see on a T-34, Panther, or Stalin tank.

My track was packaged in a small ziplock bag with no breakage despite no padding or box.

Preview sample purchased by the author.

References
[1] Son of Sherman Volume 1, The Sherman Design And Development, Ampersand Group (2013)
[2] Sherman Minutia
[3] 172shermans.com


OKB Grigorov products are available at