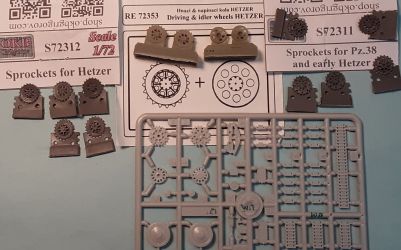 These aftermarket cast resin parts can improve on the smallscale plastic Panzerjäger 38 and/or Panzer 38(t) tank, Grille self-propelled artillery, and the Marder III kits such as the old ESCI kits, and the Attack Models and UM model kits. These parts are listed as 1/72 scale, and though I have not measured them, they reasonably match the size of the kit parts.
Attack Models set RE 72353, is Set #3 of six sets of replacement driving and idler wheels for the Hetzer offered by Attack Models. The set consists of two pair of sprocket wheels and two pairs of 8-hole idler wheels, enough for one vehicle, in a small ziplock bag. The wheels are cast in pairs ready to mount on the model rather than as inner and outer wheel parts. Detail looks good, better than that on ESCI kits and the plastic Attack kits. The Attack resin sprockets appear to be missing the teeth where the track would wrap around. For comparison we have a sprue of wheels from a 1/72 UM Hetzer kit.
What is different about these Attack Models sprocket wheels is that they appear to have spokes rather than round holes like many Hetzer wheels. This set RE 72353 appears to be the same style as the OKB sprockets set S72312 at left in the photo. The two pairs of idler wheels included in Attack's set S72312 are the type with eight large holes.

OKB Grigorov Set S72311, Sprockets for Pz 38(t) and early Hetzer but keep in mind that references state the Panzerjäger 38(t) Hetzer track was wider than the Pz 38(t) so the spacing of the pair of sprocket wheels would have been further apart; however, in 1/72-scale the difference may be insignificant. My set had 18 sprocket wheels: 8 outer wheels and ten inner wheels, enough for four vehicles. I suspect the person packing the bag miscounted but like to think they were extra generous and gave a few extra inner wheels.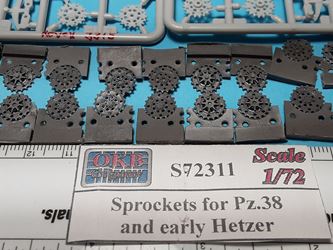 These sprocket wheels appear similar to that on the real Pz 38(t) sprockets below but the outer holes are not oriented the same, possibly just the result of assembly at the factory. This type of sprocket wheel is the most common style for the Pz 38(t) tank and Marder Panzerjägers according to my references.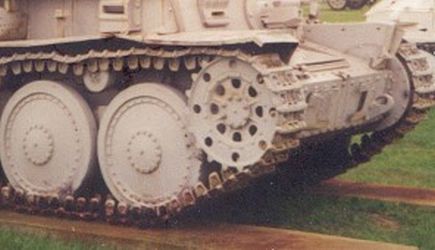 OKB Grigorov Set S72312, Sprockets for Hetzer, have no outer ring of holes and are similar to the Attack Models sprocket wheels in set RE 72353. My OKB set consists of 20 parts: nine inner sprocket wheels and 11 outer sprocket wheels on individual pour plugs, enough for four vehicles and a few extra sprocket wheels. I have noted a trend on my OKB wheels sets; the number of parts in the little bag is inconsistent, some I have purchased have 18 wheel parts and some have 20 parts, then the number of inner sprocket or idler wheels would not be the same as the outer wheels. This allows extras in case of breakage but fortunately the OKB parts can be cut off the pour plugs with rare breakage.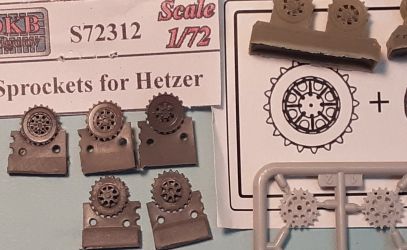 These sprockets are designated for the Jagdpanzer 38(t) and are the type common on the Swiss G-13 variant, rather than the Pz.Kpfw. 38(t) which had narrower track. I have witnessed mixed idler and sprocket types on the same vehicle.
References
Hetzer Jagdpanzer 38(t) and G-13, by Horst Sheibert, Schiffer Publishing Ltd (1990)
Jagdpanzer 38 'Hetzer' 1944-45, New Vanguard 36, by Doyle & Jentz, Osprey Publishing (2001)
Marder III, by Horst Sheibert, Schiffer Publishing Ltd (1998)
Panzer Tracts No. 9. Jagdpanzer 38 to Jagdtiger, by Thomas Jentz & Hilary Doyle, (1997)
Panzerkampfwagen 38(t) Variants, by David Nielsen, Zimmerit Press (1999)
Panzers 35(t) and 38(t) And Their variants 1920-1945, Walter J. Spielberger, Schiefer Military History (2008)
Model sets purchased by reviewer.
These model sets can be purchased from