History, Taken from Wikipedia...
Based on the M4 chassis in 1950 a prototype was finished of a heavy tank destroyer in the form of a 120 mm self-propelled gun, the Canon Automoteur AMX 50 Foch, named after Marshal Ferdinand Foch. It was intended to give long range fire support to the medium AMX 50 "100 mm"; after the tank version itself was planned to be armed with a 120 mm gun, the Foch project was abandoned.
This is a very popular tank for the World of Tanks game apparently. The model is quite straightforward and has some very nicely cast parts. There is very little flash and what there is can be easily removed with an old toothbrush, the casting blocks are easy to remove and clean up is very easy.
What do you get?
The box is the standard OKB-Grigorov white box with a printed label on the top...
Inside the box...
The instruction sheet...
The hull castings...
These are the main castings in the kit...

The pieces fit together absolutely precisely...
The bits bag emptied...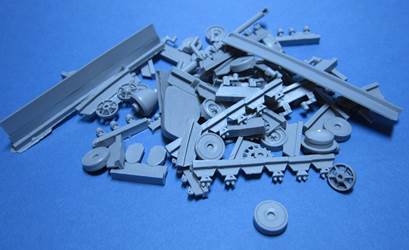 The running gear, first the torsion bar arms...
The bump stops...
The return rollers...
The idlers...
The sprockets...
The road-wheels...
The idler connector...
The hull components...
The gun...
The mantlet...
The rangefinder...
The commanders cupola...
The exhausts...
The rear light clusters...
The machine gun...
The lifting rings...
Strips for filling overhang...
Photo-etch, there were two fender sets included, I don't know if that is normal or I just got lucky with the review sample...
The tracks...
That is the model, very nicely done and up to the usual standard we expect from OKB Grigorov. Undoubtedly it is aimed at the World of Tanks aficionados, but is an interesting tank despite that and should build up into a nice model.
I have no connection with OKB Grigorov and have no financial interest in OKB Grigorov.
Preview sample supplied by OKB Grigorov.
OKB Grigorov products are available at