TK w/20mm FK38 Cannon
Manufacturer: NRC (# 72100)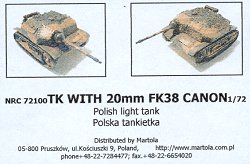 This is the second model I have of a Polish tankette, the first being the TKS from Al.By. In all honesty, I think I like this kit better than the Al.By kit, primarily because of the very prominent rivets and bolts covering the tiny superstructure.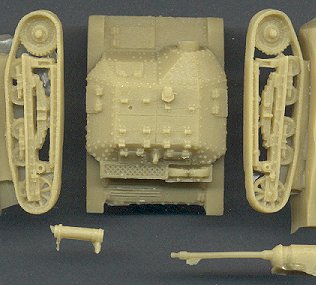 This kit shares the same weakness as that earlier model, that being the poor representation of the tracks, however, the wheels and suspension are highly detailed, and look fantastic. The spare wheels on the rear of the superstructure are very well molded, as is the engine vent, and the separate exhaust can. The gun barrel is warped, so I will try to fix it by heating and reshaping; if that doesn't work, I'll simply cut off the muzzle and replace the gun tube with styrene rod of the appropriate diameter.
I have no reference material for this vehicle, but I recommend you check out Michal Derela's Polish Armor website, which has some absolutely fantastic information on this and other Polish armored vehicles of the Second World War. This kit is almost identical in size to the Al.By kit, which I previously measured to be accurate to 1/72nd, based on the information at Michael's site.
No decals are included, and the instructions are composed of two color photos of the completed model, both showing the front of the model. A photo of the rear would have been nice to see the exhaust placement, but while basic, they are adequate for such as simple kit.
This is a cool little kit, and it will make a nice evening project for after-work relaxation.

Thank you very much to Martola Model Shop for providing the review sample.
---