Review by Stephen Brezinski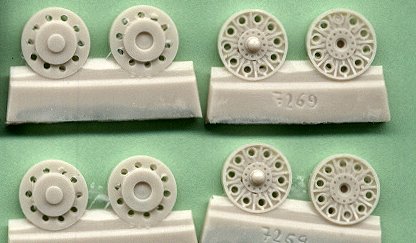 Enclosed are 20 light tan resin pieces to produce 10 roadwheels. Resin casting is superb. Clean-up of the parts from the pour plugs looks to be more difficult than the Model Trans T-34 steel wheels. These wheels can be used with the ESCI, Revell, AER and Eastern Express T-34 kits.
Though listed for the Revell T-34-85 on the packaging they are in fact for the T-34-76 if all my references are correct. Though it is possible for a T-34-85 to have several of these all steel roadwheels as replacements. This wheel was developed due to a shortage of rubber in the USSR in the middle war period. These would be ideal for a 1942-1943 era T-34. A Stalingrad T-34-76 of late 1942 to early 1943 would have all-steel wheels. Most would have rubber rimmed roadwheels in the #1 and #5 stations to reduce vibration and provide a better ride.