Review by Dave Showell

This conversion for Revell's T-34/85 fills the modern-world gap in the T-34 line-up. The career of the T-34 did not end with the conclusion of the second world war, but continued well into the cold war. As indicated in the title, this kit provides what you need to upgrade the Revell T-34 to the 1969 standard. It includes T-54 style "starfish" wheels, new stowage, a snorkeling tube, unditching beam, a new engine cover & an engine cover for snorkeling, smoke dischargers for the rear hull, large fuel drums and attachments for the rear hull, and so on. Interestingly enough, it also includes a very nice white metal .50 cal machine gun and two different pintle mounts.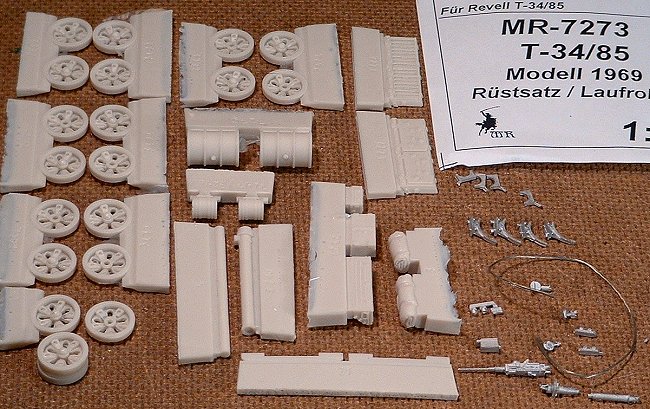 A couple of minor complaints:
the instructions pretty minimal, for example the different engine covers are not mentioned at all;
while the set includes the driving headlight and the infrared headlight, it does not include the wire frame headlight guards - these will be tough to build; and finally,
as Doug has pointed out in another review, there are some air bubbles in the road wheels, mostly on the outside hub bosses.
The Model 1969 was used in many "small" armies and with internal security units of Soviet client states. Iraq used them during the Iran-Iraq war, they could be found in the Balkan wars, and in Asia and Africa.
In the photo I have cleaned up one set of wheels and put them together.
Another great kit from MR!