After having delighted modelers of Allied vehicles with their incomparable series of M4 Shermans, MR Models is now undetaking the exciting task of providing gorgeous conversion sets for the large number of T-34 variants, both wartime and post-war. This currently reviewed set is for the post-war T-34/85 Model 1956, which incorporated many design changes over the wartime version, and was built in the Soviet Union, as well as in Poland and Czechoslovakia. This set provides all the necessary parts to model tanks built in any of the three manufacturing countries.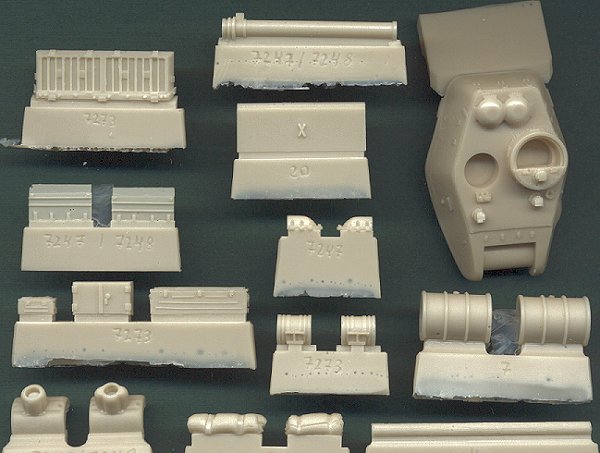 Most of the parts are cast in resin, although a few are also provided in cast metal. The turret is the main piece, and it looks great. Although I need to confirm it with my references, I think that it has been correctly modified for this version. Two gun mantles are included, though the instructions have you using only the one on the right. The resin is extemely high quality, with only a couple of very small air bubbles, and a slight mold shift on the left side of the turret. All in all, this model has the best resin casting I have yet seen in an MR Models kit.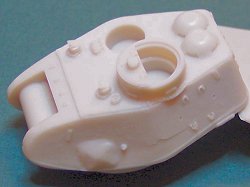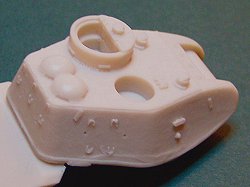 The hatches, barrel mounts, and some other smaller details are cast in white metal, and are very well done. The driver's hatch is detailed on both surfaces, which allows the modeler to open the hatch, as the Revell T-34 kit (for which this conversion was designed) has this hatch molded closed. The two turret hatches have no detail on the inner surfaces, though I am not certain what detail should be there, if any. The gun barrel is turned aluminum, and is perfect.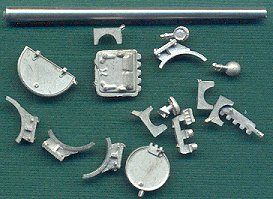 Although designed specifically as a conversion set for the Revell T-34/85 kit, I imagine that with some minor modifications to only a couple of the parts, this set may also be used with other T-34 kits, such as Italeri (ESCI), UM and Eastern Express.
Thank you very much to Smallscale.de for the providing the review item.