T-34-85 Model 1945
Manufacturer: MR Models (Kit MR-7248)
On the heels of the their highly successful M4 Sherman series, MR Models is now giving modelers several conversion and detail sets for another highly popular modeling subject: the T-34. So far we have several turret and updgrade sets for both the T-34-76 and T-34-85, as well as separate wheel sets. This current review is of the T-34-85 Model 1945.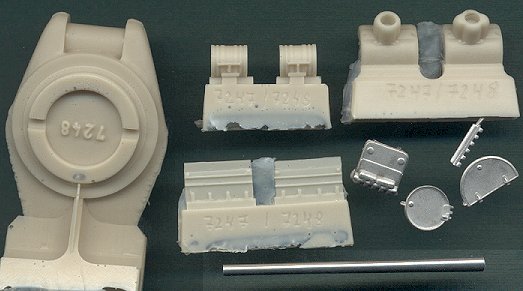 This turret is a Model 1945 Composite (or laminated) turret, which is the type that had two cast pieces, the front and the rear, welded to each other, hence the vertical weld line on the turret walls. Two gun mantlets are included: for the S-53 and the Zis-S-53. The other resin parts are the gun mantlet covers, and two smoke barrels for the hull rear. The cast metal parts are hatches for the turret and driver. Note that the driver hatch is not necessary an improved version, but rather simply allows the modeler to carve off the driver's hatch from the Revell T-34 kit, and pose it open. The gun barrel is turned aluminum.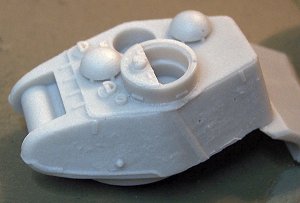 The resin is very high quality, with extraordinary detail, but many air bubbles. There are locator holes on the turret sides for the hand holds which the modeler needs to fabricate from wire.
This set is designed for the Revell T-34-85 kit.
---