Sturmtiger
Manufacturer: MR Models (Kit MR-7218)
by Marko Mäkinen
This is a conversion kit. Therefore a complementary injection kit (Tiger E with steel wheels by Revell) needs to be purchased separately to build the model. The kit is made of light grey resin with some parts cast in white metal and packed in a clear plastic bag. The part coverage is quite sufficient and the level of detail and casting quality is very good. Even the small gas exhaust channel holes around the muzzle are present. The only detectable flaws are some tiny, easily fixed holes on the sides of the gun barrel, minor softness on the upper hull details and light flash around some edges. No warping or other distortions can be seen. There are 43 parts altogether to the kit. I have not measured the dimensions of the main parts, but I believe them to be accurate enough on the basis of a bare eyesight.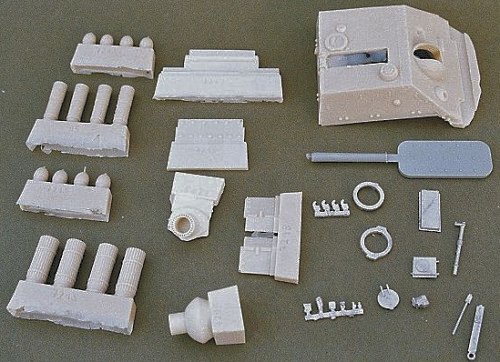 This is not a ready-to-throw-in kind of combi kit as joining of the Revell and MR Modellbau parts requires some cutting, sanding and test fitting. I´ve also heard a warning about the material being quite brittle. The joining seems like a pretty straightforward business, though, and for a cautious modeller the result should be a very convincing and detailed replica of this fearsome, but rare German WW II vehicle (only 18 pieces manufactured). The kit includes:
23 resin parts
upper hull
front armor plates (two)
front fenders
main gun parts (two)
parts for eight mortar projectiles (four bare, four packaged)
19 white metal parts
hatch covers, commander hatch ring
ammunition crane parts (wire needs to be acquired elsewhere)
commanders periscope
towing hooks
gun barrel counterweights (two different sets)
nahverteidigungswaffe
antenna mount
1 injected plastic part
a plate with a series of raised "knobs" (to provide the bolt heads to the sides of the vehicle, but these seem to be too small?)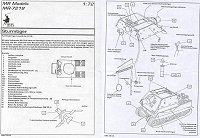 The kit includes an A5 sized, visualised instruction sheet in German. No decals are included, but on real Sturmtigers the markings were very sparse, too.
This is an excellent, yet not cheap (19,95 euros plus what you have to pay for the Tiger E kit) product and very obviously the best kit currently in the market to represent the Sturmpanzer VI "Sturmtiger" in 1/72nd scale. Highly recommended.
---