Sherman Accessories
Manufacturer: MR Models (Kit # MR-7244)
What a fantastic idea! Hats off to MR Models for releasing such an awesome set. To coincide with their flood of new Sherman kits, MR Models has given us this pack of dozens of useful stowage items, for use on all of our Sherman kits, not just the new ones.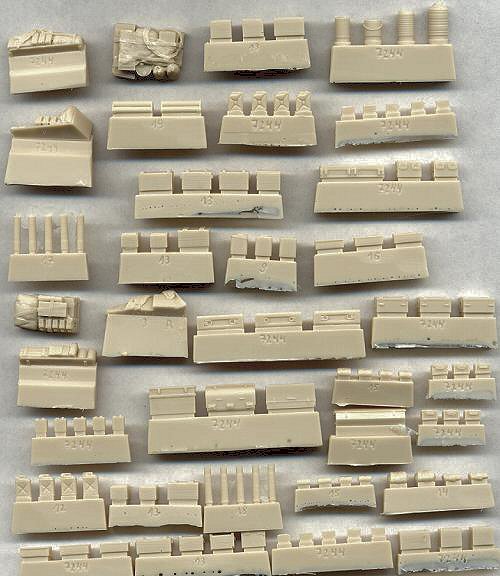 Check out all that you get:
Stowage for final drive housing (2)
Engine deck stowage (2)
British rear hull stowage carrier (2)
British turret stowage bin (3)
British medium ammo box (3)
British 17pdr small ammo box (3)
British 17pdr ammo container (3)
British large fuel can (3)
British small fuel can (3)
British airborne fuel cans/oil drum (4)
German fuel cans (4)
US fuel cans (4)
Wooden crates (14)
Tents, bedrolls (5)
Rucksacks (8)
US food crates (3)
US ammo container, shut (5)
US ammo container, open (5)
US ammo container, triple (2)
.30 cal ammo box (10)
.50 cal ammo box (6)
Firefly Vc rear stowage bin (1)
I have always believed that adding a lot of stowage to vehicle kits goes a long way towards improving the final look, and yet I hardly ever follow my own advice. This set will make it much easier to do so.
See some painted .50cal boxes on my FSF Composite Sherman.
Thank you very much to Tracks & Troops for providing the review sample.
---