Pz.Kpfw. III Ausf. E
Manufacturer: MR Models (Kit MR-7239)
This conversion set proves that it's not just Shermans that MR Models is good at making.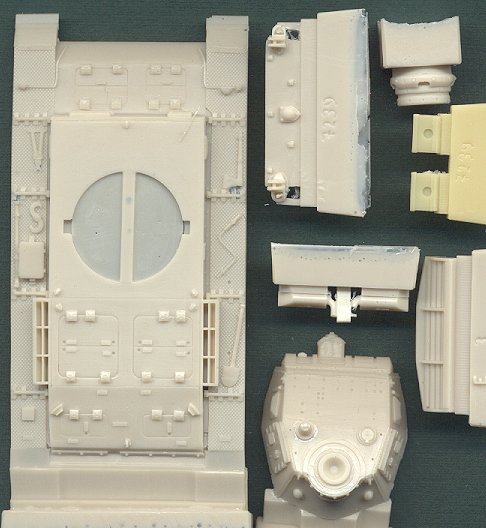 Designed for the Revell Panzer III kit, this conversion set includes a new upper hull, turret, and several detail parts. The lower hull, chassis and tracks are used from the plastic kit. As is typical for this company, the master parts are amazingly well made. There are a few air bubbles in the resin, but not quite as many as I've seen in the Sherman kits. (Those are not bubbles on the turret roof; they are screw heads for fastening equipment inside the turret.) The cupola is hollow, with separate hatch parts in metal, so you can add a commander figure. I am a little disappointed at the pioneer tools molded onto the fenders. MR Models sells a separate set of tools and accessories for Panzers, so I had hoped that those tools would be included here as separate parts, but alas, no. Also, the gun mantlet is molded onto the face of the turret (with a slight elevation), so it will require serious surgery to alter the gun position.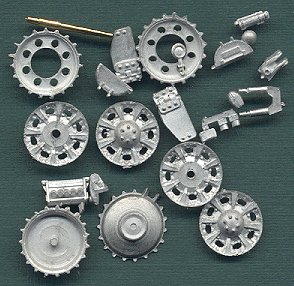 Some of the parts are provided in cast metal, such as sprocket and idler wheels, headlights, hatches, smoke candles, etc. The small brass piece in the upper left corner is the diminutive 3.7cm KwK L/46 gun, beautifully made in turned brass with a drilled tip. The early style sprocket and idler wheels are very well detailed and cast. I hope that MR Models will consider selling these as separate items, so we can use them on the early Stug III models from Attack.
Aside from my few criticisms above, this is a gorgeous set, and I can highly recommend it.
Thank you very much to Tracks & Troops for providing the review kit.
---