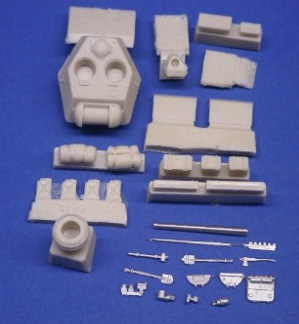 Material: Resin and Metal
Quality: All pieces are cast well
Parts: Resin (19 pieces) and Metal (17 pieces)
Instructions: Good diagrams of the turret, hull top and front with part numbers and arrows for placement. Also, the instructions give a listing of all the parts supplied and a brief history of the T-34/76 in German use.
Packaging: Ziplock plastic bag with a header. Smaller parts kept in a separate bag.
Additional: Conversion is designed for the Revell T-34/85 kit.
Disclaimer:
Article shared with http://www.ww2militaryminiatures.com with permission of the author and owner.