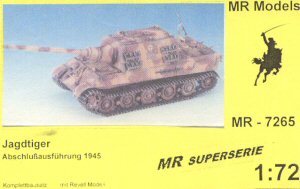 This kit is, simply put, the best Jagdtiger kit on the market today.
It has the Henschel suspension, and represents one of the final vehicles produced in 1945. It is the first of what MR Models calls its "Superseries" line, and it is indeed, an awesome model.
First, it is a combi-kit, and it includes several parts (under license) from the Revell King Tiger, which are shown below. I've only included a small scan of these parts, as you can see them closer in the Revell King Tiger preview.

The main hull of this kit is absolutely gorgeous. All hatches are molded open except the loading hatch on the rear of the fighting compartment. Some of the pioneer tools are molded onto the hull, whereas others are separate parts. Some of the ventilator covers are molded separately, and the undercut detail on the engine deck is simply fantastic. I hope the detail comes through in these scans, because it really needs to be seen to be believed.
The gun travel lock is provided in two positions, and the MG-42 AA machinegun and mount is provided for the engine deck. The gun barrel is turned aluminum. All suspension arms for the wheels are separate parts, though they are keyed so that they will be very easy to mount on the hull. I'm sure it will be quite simple to put a little bit of movement in some of them to articlulate the wheels a bit.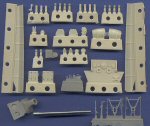 Compared to my references, this kit scales perfectly to 1/72nd. No original decals are included, only the same decal sheet that came with the Revell Tiger. The instructions are a combination of line drawings and photographs of the built model, and are printed very clearly. This is a superb model, and I look forward to seeing what else MR Models has planned for their Superseries kits.
References:
Achtung Panzer No. 6 - Panzerkampfwagen Tiger, by Bitoh
Panzer Tracts No. 9 - Jagdpanzer, by Jentz and Doyle