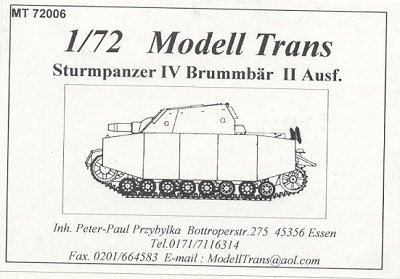 My first Modell Trans kit, and I'm fairly impressed. The quality of the moldings is top-notch, with high quality resin, very little flash, and few molding imperfections on my sample. The small number of air bubbles I see are in places where they will not be noticed on the completed model.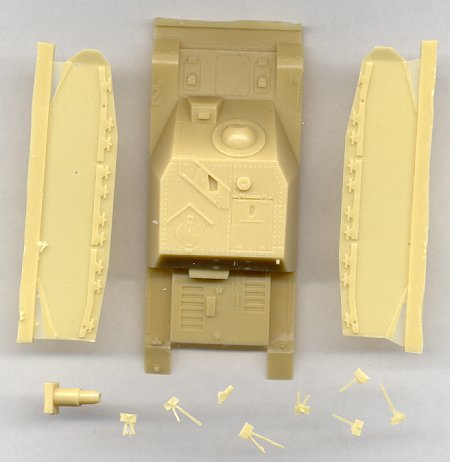 This conversion set is designed for the Hasegawa Pz IV. It was made by grafting the upper hull casement of the ESCI Brummbar kit onto the upper hull of a Hasegawa Pz IV kit. By doing this, accurate fit to the rest of the Hasegawa kit parts is assured. The detail is very nice, thanks to the good detail on the original kits. Unfortunately, this does not eliminate the major weaknesses of the Hasegawa Pz IV kits, those being the awful tracks, and the smooth fenders.
The set contains the new hull, armored side skirts (also copied from the ESCI Brummbar kit), the main gun, and several small pieces, which I assume are mounting brackets. No instructions or decals are included.
I do not know if this set will fit the lower hull of the Revell Pz IV, but it would be nice if it did.