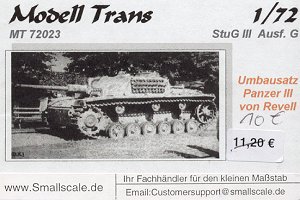 So why get a resin kit of a Stug III G when a perfectly good plastic kit is available from Revell? Well, two reasons: first, this resin conversion from Modell Trans was released prior to the release of the Revell kit (it was modified from a Revell Panzer III hull). Second, it is a slightly different version than what is represented by the Revell kit. There were a great many changes to the basic Stug III G during its production run, and this resin conversion set has several differences in detail from the Revell kit.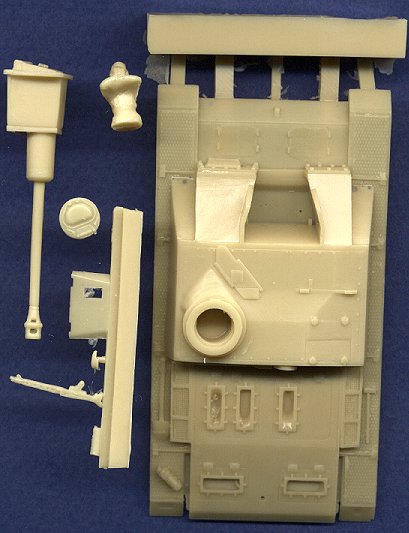 It represents a mid-series version of the assualt gun, with several late modifications, such as moving the ventilator to the rear wall of the superstructure, and adding the sloped armor in front of the commander's cupola, yet retains some earlier features, such as the square, welded gun mantlet, the normal machinegun mount (i.e., not remote control), and it lacks the close-in defense weapon port. So all of these features results in a unique version of this vehicle, which will complement any collection of Stug IIIs.
The resin casting is very good. As you can see, there are few parts to this conversion, with most necessary pieces coming from the Revell Panzer III kit this resin set is meant to convert. The new superstructure is very well done, though I have noticed something unusual: the cannon's muzzle brake is twisted a bit to the left. I know that there are some armored vehicles that have their gun mounted with a slight twist in order to better fit it into the fighting compartment, but I don't think that this was one of them. It will need to be cut off and repositioned. I really like the inclusion of the figure.
Thank you very much to Smallscale.de for providing the review item.