This 1/72-scale aftermarket tank track set represents what is referred to as Winterketten. Though the packaging calls this "Ostketten", my references identify it as Winterketten. What is the difference?


I understand the Winterkette was developed in 1942 for deep winter snow conditions. This track looks similar to duckbill extensions on M4 Sherman tracks, except these extensions were cast into the metal track, not removable. The Winterketten look like they have rectangular fins sticking out from the standard track (see photo below). Vehicles we can see this on include the Pz III, StuIG33, StuG III and StuG IV, Pz IV, Wirbelwind, etc. An example of Winterketten is shown in the photo below. Ostketten look like just wider tracks that stick out further on one side. The outside face looks much like Pz V Panther track to me.

An important thing to keep in mind is that when using the Ostketten and the Winterketten, it appears we must leave the Schürzen (side skirts) off the hull or angle the hull Schürzen out a bit away from the hull. In my searches I have seen Pz III and Pz IV with Ostketten and Winterketten and turret Schürzen, but only one Pz IV also with hull Schürzen.
Examining the real tracks on historical photos there appears to be a distinct direction for the track based on the links. I am pleased to report that Modell Trans was paying attention and molded right and left sides to their Winterketten track to ensure the links are in the correct, intended direction. With the Standartketten both sides are the same.
This Modell Trans set consists of eight sections of amber color, cast resin Winterkette track for a total of 38 cm of track. This is enough for a 1/72-scale Pz IV with some extra track, or enough for a Pz III or StuG and even more extra. The amount of track used on a 1/72 Pz IV is about 16 cm per side, and on a 1/72-scale a Pz III or StuG model uses about 15 cm cm per side.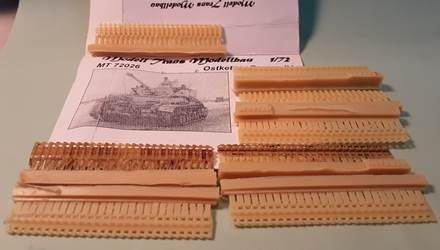 In these photos I applied a dark brown wash to several of the track runs to accentuate the track detail. Detail looks good, certainly better than that in the ESCI and Hasegawa kits, and in the quick build kits.
After cutting from the pour plug and washing in mild detergent, the resin track lengths can be immersed in hot water and carefully and promptly wrapped around the sprocket, roadwheels, and idler wheels. Some track sag between the return rollers would be appropriate.
Glue with Cyanoacrylate (Super) glue or 5-minute epoxy.


The track looks accurate and will add character to a good model. I recommend gluing the finished model down to a base or vignette as the resin track extensions may easily break off with handling.
This track accessory was purchased by the modeler.
This model can be purchased from