This all cast resin set is designed to replace the tracks of any number of 1/72-scale Sd.Kfz. 251 armored halftracks and Sd.Kfz. 11 towing tractor kits. The set consists of a right and a left hand side set with the spocket wheel, almost all the interleaved roadwheels, and the idler wheel, all cast with the track in one piece. The outermost roadwheels are cast on a separate pour block (at far left in photo below).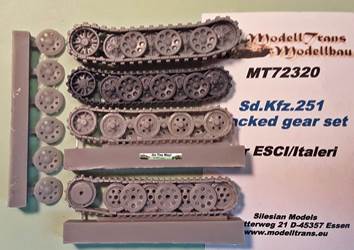 Here is a scan of the dark gray FTF track set for their three 1/72-scale Sd.Kfz. 251 kits in the center; at top is the track set from the Plastic Soldier Company Sd.Kfz. 251 kits, at bottom are the pale gray resin aftermarket tracks made for the ESCI/Italeri kit by Modell Trans Modellbau (MTM) company.
These tracks appear to be based on the styrene link & length track in the old ESCI kit, now re-released by Italeri, and like the ESCI track they unfortunately lack track teeth (guide horns). Guide horns can be simulated with bits a styrene plastic.
The roadwheels used for the mold appears to be from the Dragon Sd.Kfz. 251 kits which is a good choice to use. The addition of the separate outer wheels and reworking of the inner wheels so they do not look like one thick wheel is a significant improvement over the PSC and FTS wheel sets.
This set may also be usable with the FTF Kit 41of the Sd.Kfz. 11 towing tractor for the FH 18 field gun and Pak 40 gun, and especially nice for the ESCI/Italeri Sd.Kfz. 251 models. Depending on the Sd.Kfz. 251 kit, we will have to do some adjustments to the axles or wheels to get them to line up adequately.
The Plastic Soldier Company wheel set at top is several millimeters longer than the FTF and the MT track sets, but the Modell Trans replacement still may be usable and look good on the PSC model.
Separate parts from the pour plugs with a sharp blade and razor saw and sanding stick. Glue with cyanoacrylate (Super) glue.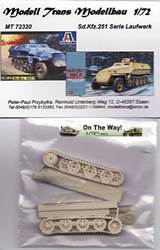 The set is packaged in a small plastic bag. There are no assembly instructions, but it is simple enough they should not be needed. Refer to instructions in a Hasegawa, ESCI or Dragon Sd.Kfz. 251 kit for reference if you need to.
As seen here, this resin casting can come in crème or white color as well as dark gray.

This model accessory was purchased by the modeler.
This model can be purchased from