The M45 quad mount was a weapon that was developed at the end of WW2 and is perhaps best known for its use on the M16 half track, but it was also used as the M51 Multiple Machine Gun Carriage, which was an M45 on a two-axle M17 trailer.
M55 was the designation of the turret installed on a simpler, single-axle M20 trailer. In this configuration it came too late to see action in WW2 (which means that this illustration, for instance, isn't quite correct) but served in Korea and Vietnam. Extra armor plates were sometimes added in the field.
At the time of release it was the only quadmount in 1/72 that I was aware of, but recently it has got company from the Armory M45.
Parts are well detailed and nicely cast with only few blemished (like seams, pinholes or other irregularities). The M2 machineguns are particularly well rendered.
The stabilizers are given as separate parts, increasing the usefulness of the kit. Holes will need to be drilled out, however, where they go into their mountings.
The kit provides the "tombstone" ammo boxes, which were very common, but not the only type used on the M55.
Ten are provided, while only four need to be fitted to the mount itself, giving some useful spares for a diorama.
There are no instructions in this kit, but the four color pictures will perhaps be sufficient for this simple kit. At first glance, I think I will still have to find some extra references to make sure the smaller parts go where they are supposed to go.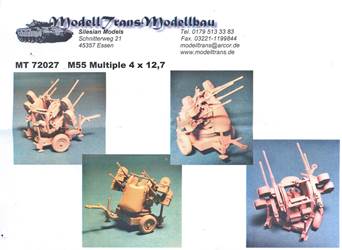 Preview sample purchased by the author.
This model can be purchased from