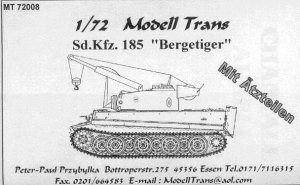 The casting and etched brass are very good and accurate. The directions are better than most resin kits.
It is labeled as a Bergtiger though latest information reveal it to be Ladungsleger Tiger 1 (a charge laying vehicle). German records list it as a conversion belonging to a German engineer unit in Italy. Its use as a recovery vehicle is further discounted by the weakness of the crane which would not be able to lift an engine or turret, the Tiger engine & trans is not powerful enough to tow other Tigers, and the vehicle is too valuable to recover lesser vehicles. I understand it would belong to the same units using the Goliath vehicles; it would go up to a fortified position and drop a heavy charge then back off to get away from the detonation. The SdKfz 185 designation was officially assigned to the 88 mm KwK 43 armed Jagdtiger.
Still, it's a very very nice kit for use with the Revell or Hasegawa Tigers.