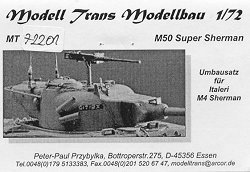 This is a conversion turret for use on the Italeri (ESCI) M4A1 Sherman kit.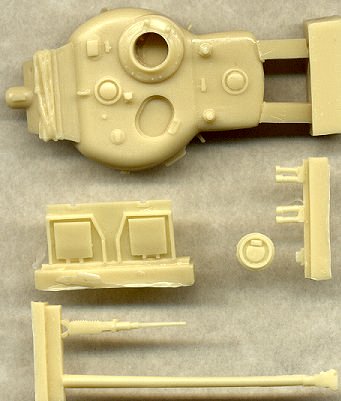 The set includes a complete turret with appropriate modifications; the main gun (slightly warped, but should be easy to fix); .50cal machinegun (improved somewhat from the ESCI gun); and a new engine deck. A commander's hatch is included for the cupola, but the loader's hatch is required from the doner kit. Smoke genade launchers are also included. As typical of this company, the resin is very high quality, with only very minor flash, and the only air bubble I've found is on the very tip of the muzzle brake. Although specifically designed for the M4A1 kit, I'm fairly certain that this turret could also be used on an M4A3, as well as other Sherman variants, such as M4A2 or M4A4 (only available from MR Models at this time).
Note that ModellTrans also has released two complete kits of the M50, the M50 HVSS (Israeli), and M50 HVSS (Chile).