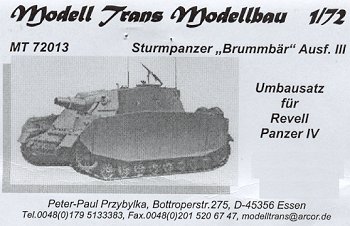 Modell Trans has quickly established themselves as one of my favorite resin kit manufacturers. They take the best plastic kits on the market, and modify them into something new and exciting. There has been only a single plastic kit of the Sturmpanzer IV Brummbär previously released in 1/72nd, that being the old ESCI kit. While a very good kit for its day (and even today), it was weak in a couple of areas, and represented the mid-version of this assault gun. Several resin companies have made versions of this vehicle since then, but most of them were based on the old ESCI hull and chassis. Now, Modell Trans has given us a conversion that is appealing on several levels. First, it represents the late version of the Brummbär, and second, it is based on the very high quality Revell Panzer IV kit.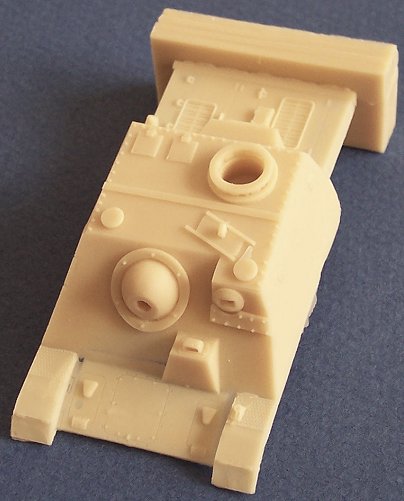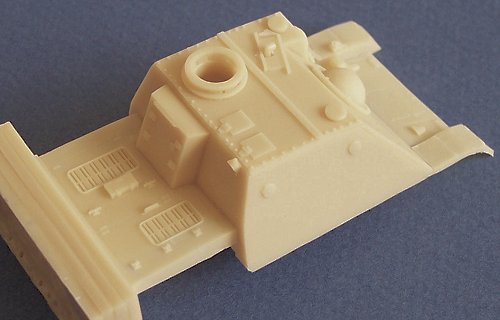 The new fighting compartment is very well done, with crisp and mostly accurate detail. Compared to the drawings in Photosniper No.12 Sturmpanzer IV Brummbär, the ventilator cover on the right front of the roof should be a little further to the left, and the two small hatches to the right of the commander's cupola are a little bit off in shape as well. But these minor inconsistancies will only be noticable when compared to scale plans.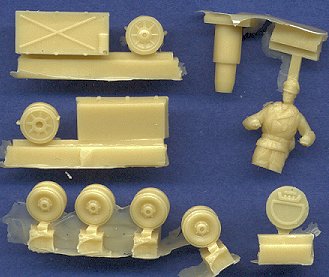 The Photosniper book also shows the late version of the Brummbär to be completely equipped with all steel wheels, whereas this set comes with only enough steel wheels for the first two wheels on each side (like late Stug IVs). The commander's hatch is detailed on both sides, and a very nicely done commander figure is included. This is highly unusual, and I am very impressed. I hope that this becomes a trend for Modell Trans.
The resin casting is perfect, with no air bubbles, and only paper-thin flash on some parts. This is a very high quality set, and I look forward to building it some day.