Chokei Sensha Type 94 Tankette
Manufacturer: Modelkrak (Kit #7217)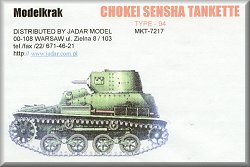 Finally, a decent Japanese tank model in 1/72nd scale. NRC previously released a kit of this same vehicle, but being early in their production list, it was more suited to wargamers. This new Modelkrak kit is just as highly detailed as all other Modelkrak kits, and I hope that we will soon see more detailed models of Japanese tanks.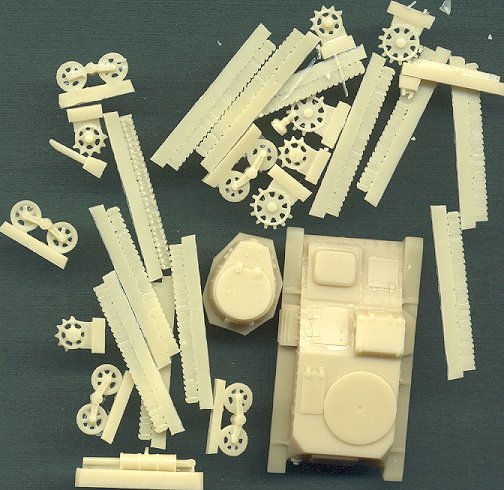 The majority of the model is made up of chassis parts: lots of tiny wheels and track pieces. Once again, this is a fairly simple kit, but with superb detail. As you can see, the sprocket wheels are missing teeth where the track wraps around the wheels, which eliminates the step of having to cut off the teeth yourself. It is a solid body kit with all hatches molded closed. I am disappointed, however, in the tracks. The inside surface is good, with delicate track guide teeth molded in two rows, but the outer surface is bare. Each link is distinct, but there is no tread detail on the individual links. Granted, these tracks are very small, but some amount of detail should have been possible, and will now need to be added by the modeler.
I recently obtained some new reference books on Japanese WW II tanks (Japanese Armor, Vols 1-3, by Andrzej Tomczyk, published by AJ Press), and according to that source, this model scales perfectly to 1/72nd. The scan above is actually a substantial enlargement of the kit.
Aside from the tracks, this is an excellent little kit, and I hope to see more Japanese subjects from this most excellent manufacturer.
---