This set contains five resin wheels which are meant to replace those that come with the Academy, and to a lesser extent Hasegawa, kit. The Academy wheels are not that bad, but the Hasegawa wheels are underscale.
Two wheels are marked "S1" (front wheels), two "S2" (rear wheels), and one "SR" (spare wheel) and have attachments which clearly correspond to the Academy wheels (see picture below).
These wheels carry the very common cross-country type of tyre for Schwimmwagens, which were unavailable to Braille scale modelers until this release. Note that these wheels were occasionally also fitted to the Kübelwagen.
It is difficult to measure tyre diameters as tyre profile, wear and inflation all had an impact. Therefore I measured the wheel rim. Kubelwagen rims were 16" (40.64cm) diameter, or 5.64mm in 1/72. MK 72 wheels scale out exactly at 5.64mm. Tyre diameter is 9.6mm.
Casting is near perfect and detail is very crisp. The way the wheels are attached to the casting blocks avoids the loss of too much detail as the small "flange" only covers the centre of the tyre. In this way you will only need to rescribe the center of the tyre thread pattern.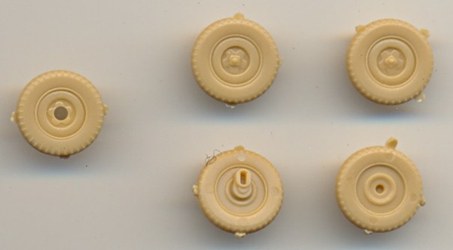 Academy wheels.
Thanks to MK72 for the review samples.