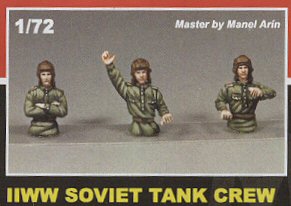 MIG is continuing with the WW II theme, but finally branching out from German subjects with this superb set of three tank crew for Soviet tanks and assault guns. Three half-figures are included, and I find their poses to be quite interesting. Two are very animated, obviously holding onto opened hatches, and the third with his arms crossed over his chest is a pose not often seen. Although the photo above makes them look a little robotic, note that the heads are separate parts, and the simple act of turning one to look to the side adds a whole new dynamism to the figure.
The sculpting is superb, with excellent detail on the uniforms, and clear facial features. My only complaint is that the faces are all very similar, and these three fellows look as though they could all be identical brothers. I think they could have been made to look a little more unique by altering their facial features and expressions.
The casting is excellent with no flaws of any kind in this sample.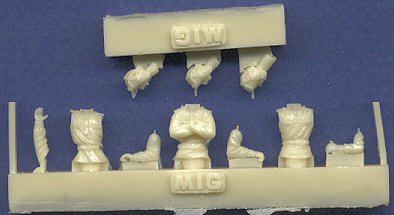 Thank you to MIG Productions for providing this review set.