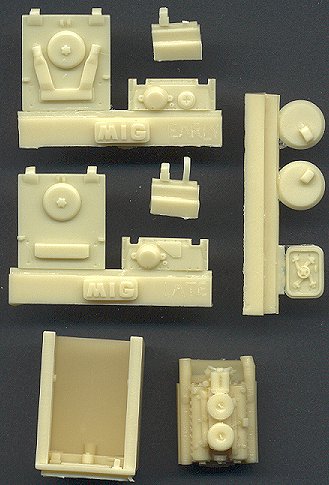 This extremely well-made set addresses two issues with the Revell Tiger kits: a complete engine compartment, and open crew hatches. The engine compartment is composed of a single-piece box compartment with interior detail, a fabulously-detailed one-piece engine, and engine compartment covers, detailed inside and out. The covers are provided for both the early and late model Tigers, so this set can be used on either the Ausf. H or Ausf. E kits from Revell. It looks as though the engine bay is a drop-fit right into the open hull, and needs only a good paint job to bring it alive. The following scan depicts a couple of the parts on their opposite sides to show more detail. Note that there is a difference between the left and right hull hatches, so make sure you attach them in their proper place.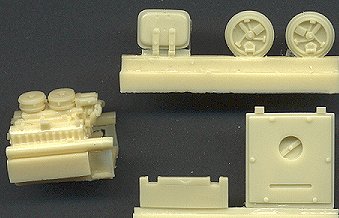 The crew hatches are completely detailed inside and out, and are for the two hull positions, and the turret loader's hatch. All three of these hatches are molded closed on the plastic kit, and these pieces will allow you to carve open the kit hatches, and replace them with fully detailed parts. The four tiny parts in the top scan (one is broken off, and still in the zip-lock bag) are periscopes and hinges for the inside of the hull hatches. My only complaint is that the pericope covers on the outside of the hatches are molded as solid blocks, and would have benefited with a small recess in front and back to give the appearance of them being open.
The quality of the parts is first-rate, with only minor pinhole air bubbles that will need to be addressed. This is an excellent set, and I greatly look forward to future vehicle upgrades from this manufacturer.
Thank you to Alvaro Rodríguez Mosquera and MIG Productions for the review sample.