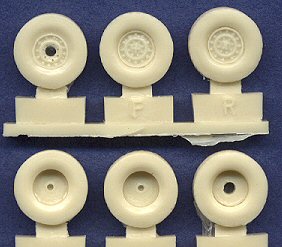 This is the second set of replacement wheels made available for the Revell Humvee kits, the first coming from Calibre72. There are three primary differences between the two sets: first the tread detail is different, with this set labeled as "aggressive pattern"; I'm not sure if the other pattern has a name, or if it's just "normal pattern". The second difference is that the Calibre72 wheels are depicted with substantial bulges to indicate weight, when in fact it just makes them look flat. MIG has not added that feature, and consequently, these wheels look a little more realistic in my eyes. And finally, this set includes two extra wheels without hubs for use as spares. That's a very nice touch.

Note that there are two different hubs on these wheels, and the wheels are marked as F (front) and R (rear) on the sprue.
The casting is excellent with no flaws of any kind in this sample.
Thank you to MIG Productions for providing this review set.